No agents left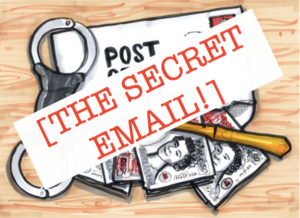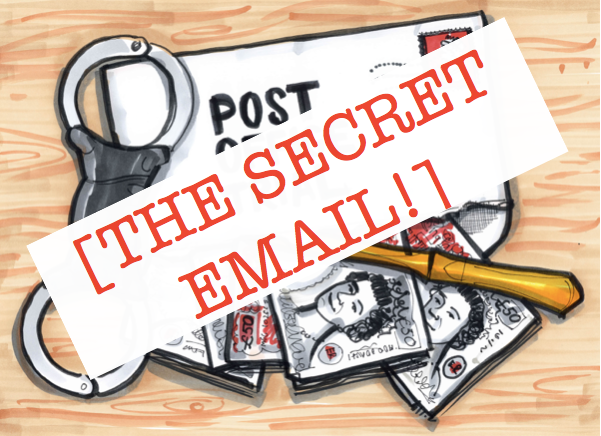 With profound apologies in advance for my failure to cover or live tweet the first hour of Day 7 of Bates v Post Office. I got to the station nice and early today after hearing there were problems on the line. I wasn't quite expecting there to be no trains whatsoever and no idea when they might start to run.

I booked an Uber. From Walton-on-Thames to Fetter Lane was going to cost £74. I gulped and went for it, as it estimated to get me to court for 10.08am, which was quicker than any other route I could see. I was allocated a driver and I could see his car was just leaving Junction 1 of the M3 to head towards me – about 10 to 15 minutes away.
I checked my emails and made a couple of calls and then had a look to see how close he was. He had cancelled the journey.
I called my wife and asked if I could use the car. She has to take one of our children to a doctor's appointment this afternoon, which she is now going to have to walk to. I spent two hours cycling home, picking up the car, driving to Wimbledon (sadly not home to Womble Bond Dickinson), finding and paying for a parking space and getting on a District Line tube to Barking. I reckon I'll be in court an hour late.
This is a shame as I will miss an hour of cross-examination of another Post Office witness. And so will you. The fault with the trains is Network Rail, the fault of the cabs is Uber and I suppose it's my fault for not hearing the bad news until 8am this morning, even though I'd been up since 6am. I was writing – so trying to avoid the news.
Secret email rant over. Let's get back on track (ho ho).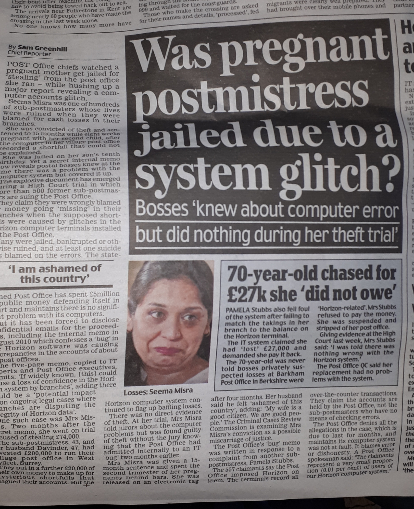 There is a good piece on page 10 of the Daily Mail today, which I urge you to read. It is up online here.
Also if you haven't bought this fortnight's Private Eye, please do pick it up (it's the one with a lonely looking Theresa May on the cover) and turn straight to page 29, where you will see a piece about the Post Office.
If you are in London , tune in to ITV London at 6pm tonight. A crew has gone to interview Seema Misra in Woking. I feel really sorry for Seema – she's doing a lot of the heavy lifting press-wise on behalf of the claimants. If you are a claimant and you want things like Angela van den Bogerd's evidence being discussed on the News At Ten, you have to come forward and tell your story. I am particularly looking for a good case study in the London area. Mr Abdulla who gave evidence last week would be perfect.
And whilst we are about it, please do have a click here. I re-wrote my piece on the NFSP and asked them for comment. Hopefully I'll get some.
Also I have been sent a lot of reaction to Mr Williams, about his comments in the stand on Thursday. Please keep them coming.
[1.30pm]
I made it to court, but I missed the first fifty minutes of cross-examination of Mrs Sarah Rimmer who works in the appointments department of the Post Office. I am currently outside court 26 during lunch. We've had the first part of evidence from Mr John Breedon, whose witness statement I have yet to see and I think he will be dealt with very quickly after lunch to clear the decks for Angela van den Bogerd, who Mr Green, QC for the JFSA has already intimated will take longer than a full day.
This will be interesting.
I am going to live tweet the rest of the afternoon (if you want to see the morning – go here and click on "show this thread" and you can read it all), then I have to hare off home to get the car back to Mrs Wallis. So I will compile all the tweets into a single readable email, then I will get the car back home, then I will write up today's cross-examinations, which will reach your inboxes (and be posted up at www.postofficetrial.com by 9.30pm tonight. Sorry about the lateness.
Thanks for all your emails and tweets and donations etc. Please do keep forwarding the links and the emails to all concerned.
Right – I'm going back in…