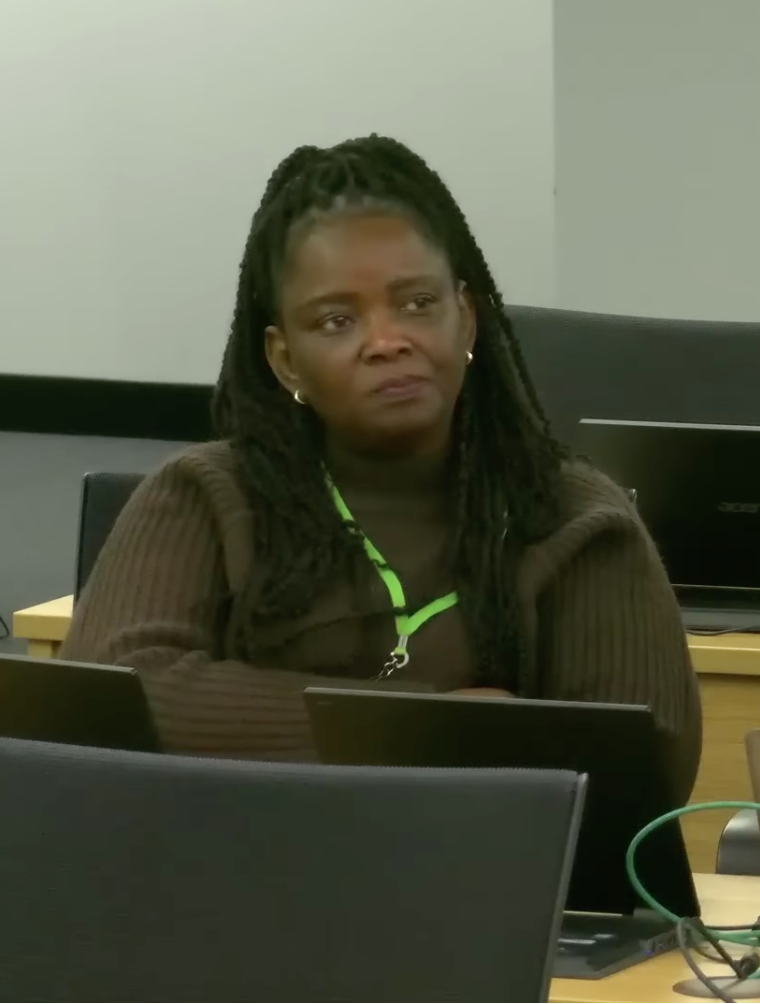 On 14 May 2021 Teju Adedayo had her criminal conviction quashed at Southwark Crown Court. Parmod Kalia, who had been convicted of theft, had his conviction quashed alongside Teju.
In 2005 Teju took responsibility for £52,864 going missing from her branch and provided the Post Office with a "confession", explaining she took £50,000 out of her Post Office to pay back some people she'd borrowed money from. In 2006, she pleaded guilty to three counts of false accounting and was given a suspended sentence.
In 2001, Parmod made a similar "confession", telling Post Office investigators he took £22,000 from his branch to buy shares. He pleaded guilty to theft and in 2002 was given a six month custodial sentence.
Both Teju and Parmod have subsequently stated the discrepancies at their branches were due to Horizon errors and their confessions were false, made in abject fear of going to prison and signed under duress.
"Public interest" cases
If you are convicted in a Crown Court, you go to the Court of Appeal. If you are convicted in a Magistrates' Court, you take your appeal to a Crown Court.
The system at Crown Court is different to the Court of Appeal. At a Crown Court, the case must be re-tried. If the respondent (in this case, the Post Office) does not volunteer to re-try the case, the conviction can be set aside (ie quashed) by the presiding judge.
Because Teju and Parmod were convicted at Magistrates' Courts, they attended Southwark Crown Court to appeal their convictions. During their hearing in 2021, the Post Office barrister stated:
"Having considered those public interest factors in respect of the facts and circumstances of these cases and, in particular, whether a prosecution is a proportionate response bearing in mind the age of the case and the fact that both appellants have served the sentence imposed on them, Post Office has determined that a prosecution is not required in the public interest."
But, she added:
"The Post Office does not accept that their confessions were made as a consequence of anything said or done that was likely, in the circumstances at the time, to render them unreliable."
Nonetheless, the judge decided to set aside Teju and Parmod's convictions and they left as innocent people, with no stain on their characters.
Compensation was a different matter. Because the Post Office maintains there was enough non-Horizon evidence to indicate a crime had taken place (ie the guilty pleas and confessions), the Post Office and government are refusing to allow Teju or Parmod proper compensation. Teju and Parmod are not the only people affected by this stance. Elaine Hood and Amer Hussain whose convictions were set aside on 27 September 2023 and Vipin Patel, whose conviction was quashed on 11 December 2020 are also described by the Post Office as "public interest" cases. So – five in total.
The Post Office says it is simply working within what the Criminal Cases Review Commission has called "a clear criterion" from the Court of Appeal about what makes a Horizon case and therefore a likely candidate for a successful appeal.
There is some resistance to this "criterion". Firstly, the government's independent Horizon Compensation Advisory Board (HCAB) doubts any Post Office conviction is sound, based on what is coming out of the Post Office Horizon IT Inquiry regarding investigatory and prosecution failures. In the minutes to its seventh board meeting this September, the HCAB stated that the Post Office's "rationales" for treating the Subpostmasters with designated "public interest" cases differently:
"in effect re-victimised them; and it was also contrary to the stated intention, as indicated in the Post Office team's presentation to the Board's previous meeting, not to run schemes on too legalistic a basis. The Minister [Kevin Hollinrake] should be advised that the Board's view was that the approach to this kind of case was in their view unfair and that they thought that all claimants in the Overturned Conviction scheme should be compensated on the same basis, not influenced by claimed differences around malicious prosecution."
Secondly, the courts have considered Teju, Parmod, Elaine, Amer and Vipin's cases and declared they are innocent of any crime. Why should the (arguably discredited) opinion of the Post Office over the legal fact of Teju, Parmod, Elaine, Amer and Vipin's innocence be the final word? And why, in particular, is the government apparently siding with the Post Office and not the courts?
Now there's a third thing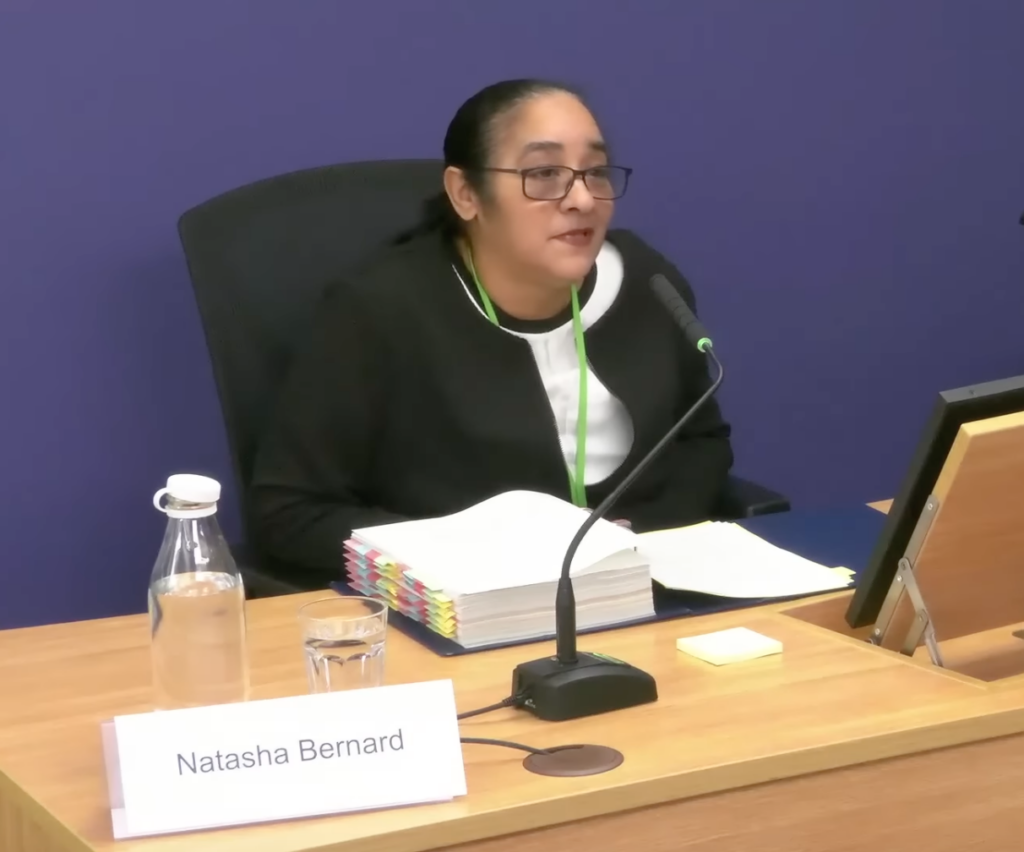 On 10 November 2023, Natasha Bernard, the Post Office investigator who questioned Teju in 2005, gave evidence to the Post Office Horizon IT inquiry. Flora Page, Teju's barrister, read out some of the transcript of Bernard's 2005 interview with Teju (which the inquiry has today published). In the interview, Teju seems almost incoherent, and her explanation as to how and why she had taken £50,000 doesn't make much sense. Having read out some sections of dialogue to Natasha Bernard, Page started asking questions:
Flora Page: "We're getting a very, very scrambled account, aren't we, of how much money was paid and when; would you accept that?"
Natasha Bernard: "Absolutely."
Flora Page: "When you get that sort of question and answers in an interview, does it cause you any concern?"
Natasha Bernard: "Looking back at this interview, reading this, I was very confused. So I can only imagine that I was probably confused during the interview."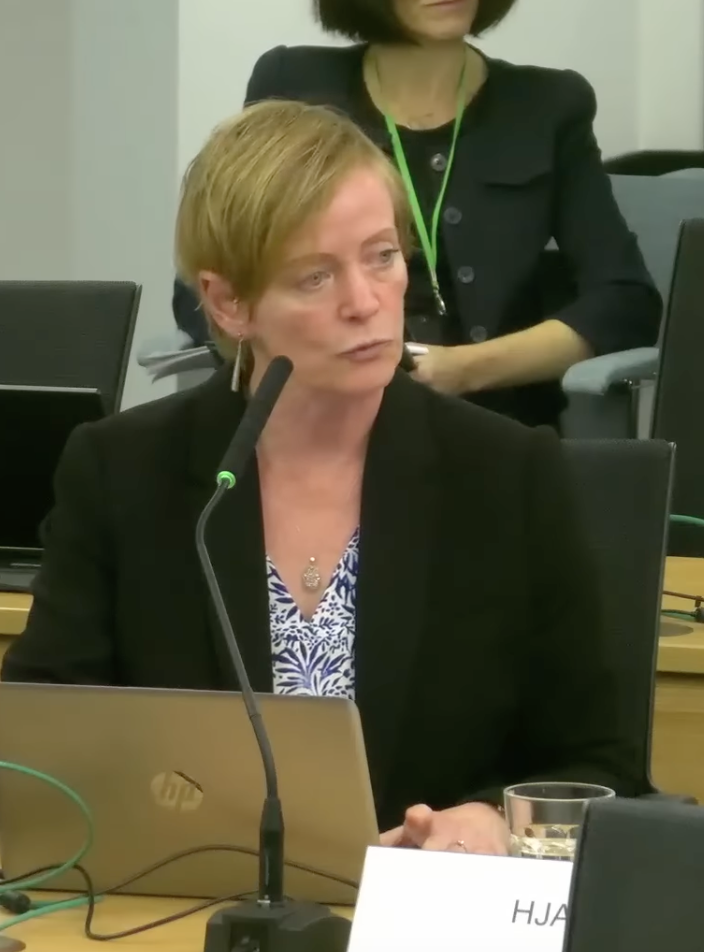 In 2005, after her interview with Teju, Natasha Bernard wrote a report to the Post Office legal team (also published today). On the formatted report, she dutifully notes Teju's race with the ID code "3", which meant, in the Post Office's terminology, Teju fell into the "Negroid Types" category.
Bernard told her legal colleagues that that given Teju's "admissions", there is "no reason why she should not be charged with false accounting" (!)
At the inquiry, Flora Page asked Natasha Bernard: "Did it ever occur to you that the problems in her account and the contradictions in her account came from the fact that none of it was true?"
Natasha Bernard replied: "I think it's quite clear in my report that I didn't believe what she was telling me."
This directly contradicts the Post Office's 2021 assertion that there was nothing in Teju's confession to render it unreliable. The investigating officer, on whose sole recommendation Teju Adedayo was prosecuted, has stated in 2023 on oath she didn't believe Teju's "confession" was remotely reliable.
When I asked Flora Page about this apparent contradiction for the purposes of writing this piece, she replied: "The Post Office maintained that there would be a reasonable prospect of conviction if there were a retrial of Mrs Adedayo's case. They now know something of what Ms Bernard would say at a retrial. I wonder if they will re-think their position." Teju simply said: "I am glad that the truth came out of Natasha Bernard's mouth even if it was forced out of her."
In summary, Teju Adedayo made a confession about stealing £50,000 from the Post Office which didn't make sense at the time, was not believed by the Post Office, was never followed up to see if it was true and has since been disavowed. Yet Teju has been refused the compensation she would otherwise be entitled to, with the Post Office telling a court that there was nothing in her confession that rendered it unreliable.
This is not a small point. Indeed, once all the barristers had finished questioning Natasha Bernard, at the end of the day, the chair of the Inquiry, Sir Wyn Williams, raised the matter again.
Sir Wyn: "I think you said to Ms Page that you didn't actually believe what Mrs Adedayo was telling you in interview, yes?"
Natasha Bernard: "Yes, that's true, sir."
Sir Wyn: "Right, okay. Did you make a witness statement for the criminal prosecution of Mrs Adedayo? […]"
Natasha Bernard: "I don't… I think… I don't think so, because she pleaded guilty."
Sir Wyn: "So she pleaded guilty in the Magistrates Court, as I understand it, yeah?"
Natasha Bernard: "Right, yeah."
Sir Wyn: "I appreciate this is a long time ago but I just want to get your best memory… your memory is that you didn't actually get to the point of making a witness statement?"
Natasha Bernard: "Honestly, I don't remember. But it's… I don't think so."
A senior legal person not connected to the Inquiry spotted this exchange and told me Sir Wyn "knew exactly what he was doing" by raising the matter in this way. We might be able to infer someone thinks there could have been a potential criminal offence committed between Teju "confessing" in 2005 and the case coming to court in 2006, but it wasn't by Mrs Adedayo.
I asked the Post Office about this and they told me they don't comment on individual cases. The Post Office investigating officers for the other "public interest" cases have yet to be called before the inquiry. I hope they are.
---
The journalism on this blog is crowdfunded. If you would like to join the "secret email" newsletter, please consider making a one-off donation. The money is used to keep the contents of this website free. You will receive irregular, but informative email updates about the Post Office Horizon IT scandal.
---