Vennells' legacy
Hi there
The terrible situation in Ukraine has (wholly understandably) pushed the Post Office Horizon scandal out of the broadcast news running orders, but still the inquiry rolls on.
There was a lot of interest in Friday afternoon's focus group, mainly because one of the participants was Sue Edgar, chair of the National Federation of Subpostmasters. Sue is, by all accounts, a divisive figure. She certainly had some of the most extraordinary evidence to give. I focused on her account of being taken into a secure room at Fujitsu HQ and watching someone remotely (and allegedly) take Euros out of a branch Subpostmaster's bureau de change. It may have been a prank, it may not.
What was uncanny was that it almost exactly matched an account given by former NFSP exec co member Michael Rudkin about his experience of visiting Fujitsu back in 2008. I wrote the story up here.
The mighty Karl Flinders from Computer Weekly focused on the £68,000 discrepancy which recently appeared in Sue Edgar's branch, and was subsequently written off.
The picture painted by all the Subpostmasters during Friday afternoon's focus group was of a financial system within the Post Office which is completely out of control.
Subpostmaster remuneration has been cut to the bone, individual branches are worthless as no one can sell them on and the entire value of the network was written down to zero by the Business department earlier this year.
It paints a picture of a network which is close to collapse – entirely dependent on the goodwill of Subpostmasters to keep going. And the goodwill has all but gone. Listening to David Hartley well up when describing having to make good balances out of his own pocket, year after year, was awful.
Vennells' enrichment
David Hartley was once quite senior within the NFSP, and told the story of what happened when he confronted the all-powerful Post Office CEO Paula Vennells over her pay at a conference. You can read what he had to say here.
Other commitments mean I still haven't watched every evidence session. They are piling up. One of the most affecting I've seen to date (and only recently) is Susan Hazzleton's.
This took place on 17 Feb and was written up by the Daily Mail and The Guardian. Both papers do a good job of describing the Post Office's sheer corporate gangsterism at work. If it wasn't quite criminal it was certainly vindictive and malicious, and the latter element had some significance in Ms Hazzleton's case.
Once she had concluded giving evidence, Sir Wyn Williams, the Inquiry's chair wanted to know the answer to a question which has been exercising MPs, journalists and those directly affected in particular – do prosecuted claimants who were part of the Bates v Post Office litigation qualify for interim compensation if they weren't convicted?
At the moment the government appears to be saying no. This state of affairs was something Sir Wyn said he would be "unhappy" with, were it to be true. He asked Ms Hazzleton's representatives and inquiry's own legal team to give him their opinions. Presumably that means he may well offer a published view, and soon.
I'll try to do more digging to get to the bottom of it. Karl has already written about this here.
Final part of the Case of the Brillante Virtuoso
One reason I have not been able to produce much journalism on the Post Office recently is because I've been putting the final touches to the Case of the Brillante Virtuoso. I wrote about the story at length in the last newsletter, so I won't trouble you again, but if you do have the time tomorrow (Wednesday) at 11am, the concluding part is being broadcast on BBC Radio 4, and I would love to know your thoughts.
The story features the mysterious hijacking of a fully-laden oil tanker in the Gulf of Aden, the murder of the man sent to investigate it and the shady dealings of a multibillion-pound businesst. Parts 1 and 2 can already be found on BBC Sounds here.
Project Virginia
I launched a new crowdfunder today. I'm asking people who kindly supported my reporting from the Depp v NGN trial at the High Court in 2020 to put their hands in their pockets to fund my coverage of Depp v Heard at Fairfax County Court in Virginia in April and May.
I have a journalist visa and I've booked a flight, but I haven't actually got any money. And it's not going to be a risk-free exercise. The trial might be called off, COVID might flare up again, anything could happen.
I've explained everything here, but I don't expect any secret emailer to donate unless you really, really want to. I know there are some people reading this who have taken an interest in both the Post Office Scandal and Johnny Depp's legal travails, but I'm not sure how much the Venn diagram overlaps.
Fortuitously, the two months or so I am planning to be in the US coincides with a period of downtime for the Post Office Inquiry so I will hope not to lose too much sight of what is going on with this story whilst I am away.
When I get back I am going to spend a couple of months following as much of the inquiry as possible whilst also doing a number of book talks in various venues. If you live in South West Surrey or the North West of England I already have a couple of dates booked in over the next two weeks which may be of interest..
Church to Casas
If you are based anywhere near Farncombe and would like to hear what the Post Office did to local Postmaster Chirag Sidhpura, both he and I will be speaking at Farncombe Church on Friday week – the evening of 18 March. More than a hundred people are coming to that already, but it's a big church and there is room for plenty more. Tickets are available here. Big thanks to Eleanor Shaikh for organising.
Also on Thursday 24 March I'm speaking at a place called Casas in Liverpool with Pete Murray. Casablancas is a funny old townhouse on Hope Street which used to be a nightclub, and when I was a student I once took Harry Hill and Al Murray there after they'd performed at the Neptune Theatre. It'll be quite strange going back. My thanks to my old university friend and energetic activist Alice Bennett for organising this one. Tickets are available here.
Thanks also to everyone who has kindly offered possible venues and their willingness to help out at organised and disorganised book reading events in the future.
Each one I've done so far has been very different, and typified by the hunger for more knowledge about this scandal and the outrage it engenders amongst the people who come along.
Last week's evening in Bath with Nicki Arch and Tim Brentnall was a case in point. It was great to see Nicki and Tim on stage calmly taking the audience through everything that happened to them and brilliantly articulating what needs to happen next. If only we'd taken some photos. I'm hoping to announce a few more dates soon, and I'm trying to get round the country as opportunity allows.
Finally, thanks to everyone who has signed up to this newsletter – new subscribers, veteran secret emailers or something inbetweeners. I'm grateful you're here, I really am, and I do enjoy reading everything you send me, especially if it's with yet another angle to this appalling story.
Very best
Nick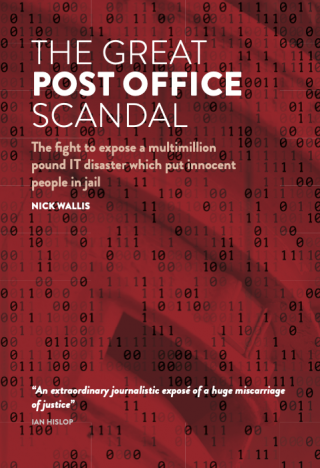 Please do forward this email to a friend. Everyone who buys a copy of the book through Bath Publishing (or donates via my tip jar) will automatically be invited to join the "secret" email list.
The Post Office Horizon scandal is available for £25 as a hardback and £8.99 for an ebook (or £30 for both) from Bath Publishing. Click here to buy it.
The audiobook version will hopefully be published soon.