Paul Scully's teasing hint
Good morning
I'm rushing to get my train to head to the inquiry this morning so I'll try to keep things relatively brief.
Former Post Office manager Nicki Arch is giving evidence today. Yesterday she tweeted the Postal Affairs minister Paul Scully, asking if there was any "chance of any good news prior to me giving evidence to the enquiry tomorrow?"
The "good news" Nicki is referring to is about compensation. The compensation for Postmasters affected by this scandal is a mess. Leaving aside the Historical Shortfall Scheme there are a group of 555 people bound into a High Court settlement which saw many of them get back a tiny fraction of what they lost. Nicki was one of the 555, and was maliciously prosecuted by the Post Office. Despite this, the government appears to think the terms of the High Court settlement gave away her right to sue the Post Office for malicious prosecution simply because she was found not guilty at trial.
Double injustice
Nicki is therefore apparently unable to claim a slice of the government's £685m set aside for those who get their convictions quashed simply because she was never convicted. She is also unable to sue the Post Office for malicious prosecution because that right was apparently taken away from her by the High Court settlement. The double injustice is plain.
Mr Sully replied to Nicki's tweet saying "Not quite. Good luck for tomorrow. Sorry it's taking so long but just the last hoops I'm hoping, to be jumping through."
Unless Mr Scully is being deliberately cruel and toying with Nicki simply to dash her hopes, this is another clear statement of intent. Christ knows why it's taking so long – everything seems to take ages when it comes to putting right any injustice – but I would be very surprised if proper compensation for the 555 was not on the cards. It looks to me like the decision has been taken, the legalities are being put in place and the ducks are being lined up for an announcement.
Of course the devil will be in the detail, and if the scheme is anything like the Historical Shortfall Scheme it will be another mess, but government ministers do not normally make public prounouncements like the one above unless they know what the outcome of a situation is going to be. Why otherwise make yourself a hostage to fortune?
Closing statements
One of the most powerful elements of the inquiry to date has come from the closing statements read out by Subpostmasters giving evidence. Setting out precisely what the Post Office has done to them, in their own words, without interruption, is a crucial part of this process (you may remember during her "mediation" in 2014 the Post Office refused to let Pam Stubbs even finish her personal statement).
I was present to witness Malcolm Simpson's closing statement to the inquiry, which I found very affecting. This morning I posted up Tim Brentnall's closing statement which caused something of a stir on social media earlier this month. I have taken Tim's excellent lead and learned some Dark Arts. I can now clip specific sections of the inquiry evidence out from each lengthy youtube video and post them up on social media or my website. Now all I need to do is go back and watch every video to pull out relevant and noteworthy pieces of evidence. If anyone has noted anything I definitely should be highlighting, please hit reply and let me know. If you gave evidence yourself and you are reading this – don't be shy! Tell me the bit you would like to see pulled out of your own session and I'll try to get some of this into wider circulation.
Out and about
Another Subpostmaster giving evidence today is Chirag Sidhpura, who I first met in the second week of the High Court litigation when he took the trouble to come and see me at my temporary office in the Knights Templar pub, just round the corner from the Rolls Building. Chirag was treated abominably by the Post Office, and is in an almost unique situation, having been suspended after the closing date for applicants to the High Court litigation in 2017.
Chirag and I, along with his MP Jeremy Hunt, will be speaking at St John's Church in Farncombe tomorrow evening. It looks like there is going to be a big turnout but I would love it if anyone reading this can make it along. The train is 40 minutes out of Waterloo and the church is two minutes walk from the station. You can buy tickets here. The event is being organised by the indepfatigable Eleanor Shaikh and the good folks at Bath Publishing. I really do hope you can make it.
If you live too far away, perhaps consider coming to Liverpool a week today (24 March) where I will be hosting a similar-ish event with Pete Murray at Casas on Hope Street. More info here.
Right – I'm off to catch my train.
Very best
Nick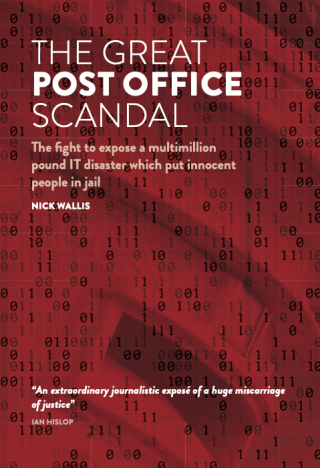 Please do forward this email to a friend. Everyone who buys a copy of the book through Bath Publishing (or donates via my tip jar) will automatically be invited to join the "secret" email list.
The Post Office Horizon scandal is available for £25 as a hardback and £8.99 for an ebook (or £30 for both) from Bath Publishing. Click here to buy it.
The audiobook version will hopefully be published soon.