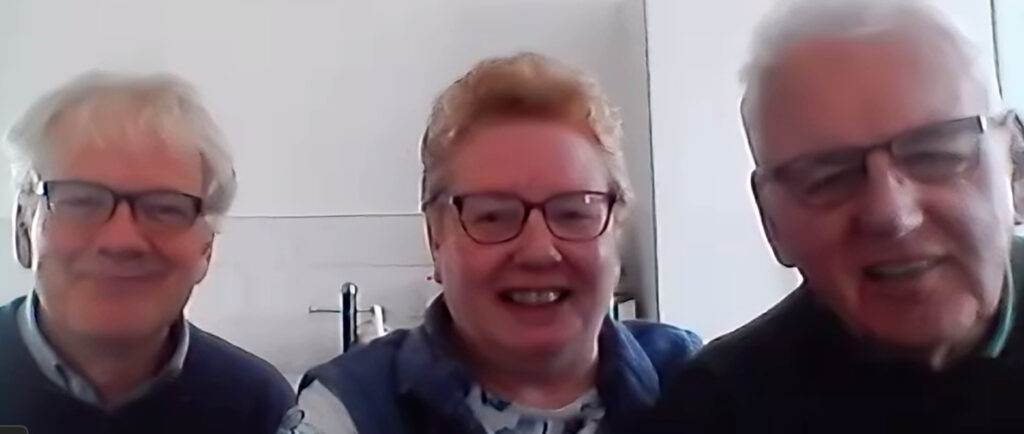 I'm delighted to tell you that Noel and Sian Thomas's book The Stamp of Innocence is available as an ebook from Amazon. Noel was prosecuted by the Post Office and sent to prison in 2006. On getting out the Post Office went after his house and pension. Noel had his conviction quashed at the Court of Appeal in 2021.
To mark the auspicious moment of his book's publication, Rebecca Thomson and I interviewed Aled (Noel and Sian's ghostwriter) and Noel for our podcast Investigating the Post Office Scandal. Sian was there to sort the technicals (see above pic), but had a sore throat so wasn't able to participate in the conversation.
If you'd like to listen to the podcast, you can find it on this website, Audioboom, or by searching in Spotify or Apple podcasts (or most other podcast platforms). We had a great chat about the book, about Noel and Sian's life on Ynys Môn/Anglesey and Aled's thoughts the scandal as well as writing the book.
The paperback version of The Stamp of Innocence is due to come out within the next couple of months. If you are a Welsh language speaker and would like to buy the Welsh version of The Stamp of Innocence, it is called Llythyr Noel and is already out as a paperback as well as an ebook. Noel and Aled read from both Llythyr Noel and The Stamp of Innocence in the podcast, and it is a delight to hear.
I really hope I can get over to Ynys Môn to do a joint reading of The Great Post Office Scandal, Llythyr Noel and the Stamp of Innocence with Noel, Sian and Aled some time next year. If you have a venue there and fancy putting an event on, do get in touch.
---