Susan Craddock (above) has multiple sclerosis. She runs Largs Post Office in Ayrshire on Scotland's West Coast. She cc'd me in the letter below.
When I asked her if I could publish it she agreed, describing herself and many other Postmasters as "desperate". There is something Dickensian in the tone of Susan's letter. I couldn't help thinking of Bob Cratchit and Ebeneezer Scrooge when I read it. Maybe it's the time of year.
I asked the Post Office for a response to Susan's letter, ideally from the Post Office CEO, Nick Read, himself. They have provided me with a statement which I have also pasted below.
I have been hearing stories like Susan's for a while now. Here goes….
Dear Mr Read,
I know you have said that you are trying your best but there's a few things I feel you should know. 
I paid you in excess of £20,000 for the privilege of running a Post Office. 
During Network Transformation I was hounded until I signed the new contract. Your financial experts approved my business plan when I had the post office income and a few cards and souvenirs. 
Now, ten years later, I have a much bigger retail area, a cafe and market stall. My husband runs this.
We are working ourselves into the ground. We can do no more. 
Why, oh why then am I earning far less than I did before NT? 
No pay rises for all those years, that's why! In fact decreases for some products! 
Our income is constantly eroded and I believe the Post Office are taking a massive proportion of the money that we generate, although we cannot find this out of course. 
I would like to retire, but one look at my books would put anyone off for good!
We have recently discovered that Postmasters are paying for the Horizon scandal. This is a scandal in itself! 
The minimum wage has gone up along with many other regular expenses. This is unsustainable 
I am not alone. You will find this in almost every postmaster you ask.
Is it really okay that highly experienced post office workers are only worth minimum wage and Subpostmasters not even worth that! 
The government says it wants 11,500 post offices but who pays for this?
More and more it's the poor Postmaster!
We know the the Post Office has made millions this year and we will get none of it!
Please give us some respect and be open and truthful and please give us the money we have earned! 
Kind regards,
Susan Craddock
Largs Post Office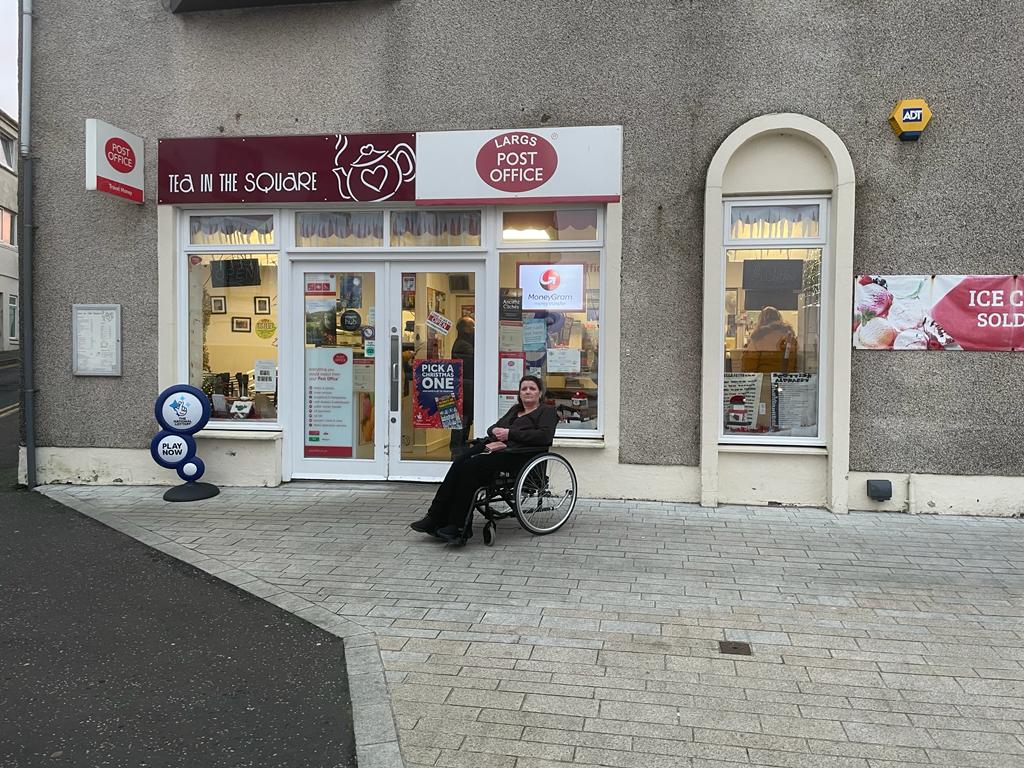 The Post Office Response
"This is the most challenging economic climate retailers have faced in decades and we fully recognise the pressures Postmasters face to keep their branch open and serve their local community.
"Post Office increased remuneration rates in August to support Postmasters, including a one-off lump sum to help with the difficult winter ahead. We have also secured partnerships with Amazon, DPD and DHL Express to help increase footfall for our postmasters and have just announced a new trial partnership with Evri.
"However, we made clear to postmasters in August that further help, particularly with energy costs, would be required from the UK Government who is the sole shareholder of the Post Office. The Energy Bill Relief Scheme announced in September that provides a saving until the end of March 2023 is not only welcome but vital.
"The immediate priority is for post offices to be considered 'particularly vulnerable' for further support by the UK Government when it announces the conclusion of its review of energy support by the end of December.
"Postmasters demonstrated through the Covid-19 pandemic that they are there in person to help every community in the country.  They continue to provide essential services, including some 400,000 banking deposits each month in Scotland; and over eight million £400 payments across the UK as part of the consumer Energy Bill Support Scheme. If postmasters lose the support for their business energy costs, this could significantly affect their ability to stay open and help millions of people access the help they need." 
With regards to the point about remuneration rates not going up, please see below the full package of remuneration improvements announced in August 2022.
The improvements, taken from a speech delivered by CEO Nick Read, are detailed below:
In Cash & Banking:
We will double the per transaction payment for banking deposits
We will pay you a fee for each £100 of any cash withdrawal of £500 or more
And we will pay you for balance enquiries and failed transactions
All of these improvements will be effective from the start of September trading.
In Mails:
We will Introduce an acceptance payment for Click & Drop letters, passing on the full amount of the payment we receive from Royal Mail directly to you.
Again this will be effective from September trading.
And for Payout:
We will double the payment you receive for all Payout transactions for the rest of this financial year.
This will be back-dated to 1 April 2022, so you receive a full year's worth of this 100% uplift
To provide you with immediate support in the midst of this cost of living crisis, we will also;
Pay you a one-off lump sum worth 7% of your Mails and Travel Money remuneration based on the five months of trading already this financial year.
You will receive this lump sum in your September remuneration.
With regards to the Postmasters of today paying for the failings of the past, this was acknowledged by Nick Read in a speech in April 2022 and covered by the media too.
From Better Retailing's "Post Office CEO Unveils Key Priorities for the Year Ahead":
https://www.betterretailing.com/symbol-group-news/post-office-news/exclusive-post-office-ceo-unveils-key-priorities-for-the-year-ahead/
Lastly, Read recognised the remaining priority needs to focus on rebuilding trust, in light of the Horizon IT scandal, noting "until we fully address the past, we cannot fulfil our future".
He said this means giving "every possible assistance to the Horizon IT inquiry", "delivering compensation to those impacted" and "continuing to deliver operational and cultural changes across the business".
"To do this, over the anticipated end-to-end timeframe of providing redress for historical matters – from 2018 through to 2025 – the government has chosen to have us set aside over £300m in our accounts," said Read.
"This is for the administration, management, and legal fees to delivery compensation to all those impacted – including some contributions to those settlements. It is a huge sum. But is a sum driven by the process we must follow and to ensure that full, fair, and final compensation is rightly paid.
"It pains me to say that it is therefore some £300m that is not available for investment in you and our network."
---
My work on the Post Office Horizon IT inquiry is crowdfunded. If you'd like to contribute, please click on the widget you should be seeing to the right of this text (or below if you're reading it on a mobile). To find out more before donating, please go to my tip jar web page. All contributors will be added to the 'secret' email newsletter, which offers irregular, and at times, irreverent insight into the machinations of the inquiry and the wider scandal.