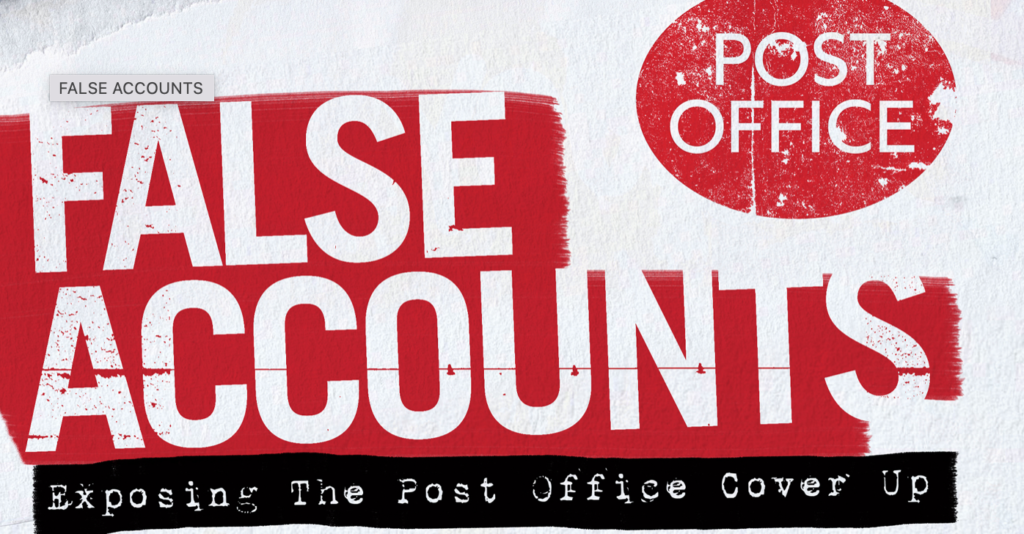 If she didn't have her hands full fisking the inquiry evidence of a former Post Office executive or writing a mammoth document on the disastrous origins of the Horizon IT system, Eleanor Shaikh would make a fine theatre reviewer. Here's her take on the London production of False Accounts:
"Only a hardened dramatist would consider going anywhere near the Horizon scandal and it would take almost madness to tackle it with black comedy. It would also take an unusually brave bunch of actors to recreate the carnage left in Horizon's wake, in the knowledge that some of those most deeply affected are sitting just metres away.
But Lance Nielsen, Dickon Tolson and the Outcasts Creative have embraced these risks with consummate skill, delivering a fast-moving, multi-layered critique of Post Office's Empire, whilst simultaneously paying homage to those sucked into the upside-down world of its infamous IT scandal.
Elite Sparrow sub-committee
There's perhaps no better way of exorcising the demons of Post Office's regime than through satire, it's deployed like ammunition by the Outcasts in relentless waves. They train their sights on Fujitsu and the NFSP; they spare neither lawyers nor auditors, trainers nor the elite Sparrow Sub-Committee in their attack. They juggle outrageous costumes with mercurial skill; seize puppets and masks as shields and decoys to defend against any accusations of defamation which real world lawyers might seek to launch in retaliation.
But these moments of hilarity punctuate tortuous scenes in which the survivors' lives and sanity are systematically stripped away. This piece wasn't conceived to be a comfortable watch and the writer doesn't recoil from showing us an endless stream of 'Smiths' being beaten into submission by their corporate taskmasters. Nielsen knows that, to do justice to the real Sub-Postmasters (to whom he dedicates the show), he must take the audience to their toughest, darkest places. The inevitable consequence is a solitary speech, under a single light, which takes us to the brink of one man's devastating despair.
Alan BSmith
The Outcasts Creative makes high demands on its actors as they race through multiple roles, reeling between fact and fiction, ruin and hope. Along their way, they leave behind some priceless cameos; the finely drawn portrait of 'Alan BSmith' whose relentless sense of justice is the unifying force for rebellion; a tender nod to Julian Wilson; an Aujard, paralysed by news of the failed recusal attempt and an alarmed Vennells summoned by her boss…
But for all these brilliantly observed, interconnected threads, 'False Accounts' offers no honeyed resolution; it ends with actors addressing the audience directly to remind us that the fight is very far from over, the balance of power has yet to be restored. There is a final, moving moment as the company bows to those in the audience whose accounts they have so truthfully told, before leaving us with the lingering question of where on earth do we go from here…
One day, the story of the greatest miscarriage of justice in British legal history may be honoured with the budget and the weight of a full-length feature film; the heroic struggle of its survivors deserves no less. But in the meantime there is perhaps no sharper medium to take on the staggering sweep of this story, and the human suffering at it's heart, than that of of raw theatre in the hands of a genius writer/director and his impassioned band of Outcasts."
I am grateful to Eleanor for allowing me to publish her review here. You can read first tranche of notices from the Birmingham production here (with thanks to Wendy Buffrey, Tracy Felstead and Janet Skinner). And the second tranche – again from Birmingham (this time with thanks to Nicki Arch, John O'Sullivan and Ian Henderson) here.
---
My work on the Post Office Horizon IT inquiry is crowdfunded. If you'd like to contribute, please click on the widget you should be seeing to the right of this text (or below if you're reading it on a mobile). To find out more before donating, please go to my tip jar web page. All contributors will be added to the 'secret' email newsletter, which offers irregular, and at times, irreverent insight into the machinations of the inquiry and the wider scandal.