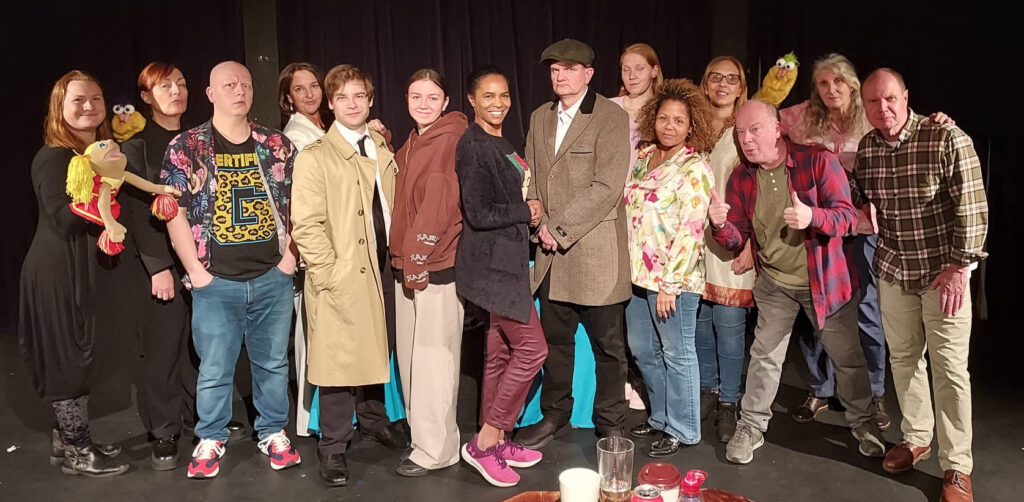 The London run of False Accounts – a satirical play about the Post Office Horizon scandal by the Outcasts Creative theatre group – starts its one week run on 1 November.
It has attracted quite a bit of interest from many people directly affected by what happened, some of whom have been kind enough to submit reviews.
I got the first tranche of notices – from Wendy Buffrey, Tracy Felstead and Janet Skinner – up here (along with a short treatise on the difficulty of trying to get laughs from such a serious subject). What follows are some more reviews of the Birmingham run.
My thanks to everyone who submitted their thoughts. Some of the quotes circulating on social media and in the last blog post have been used in the official publicity material for the production!
Nicki Arch, former Post Office manager, falsely prosecuted by the Post Office said: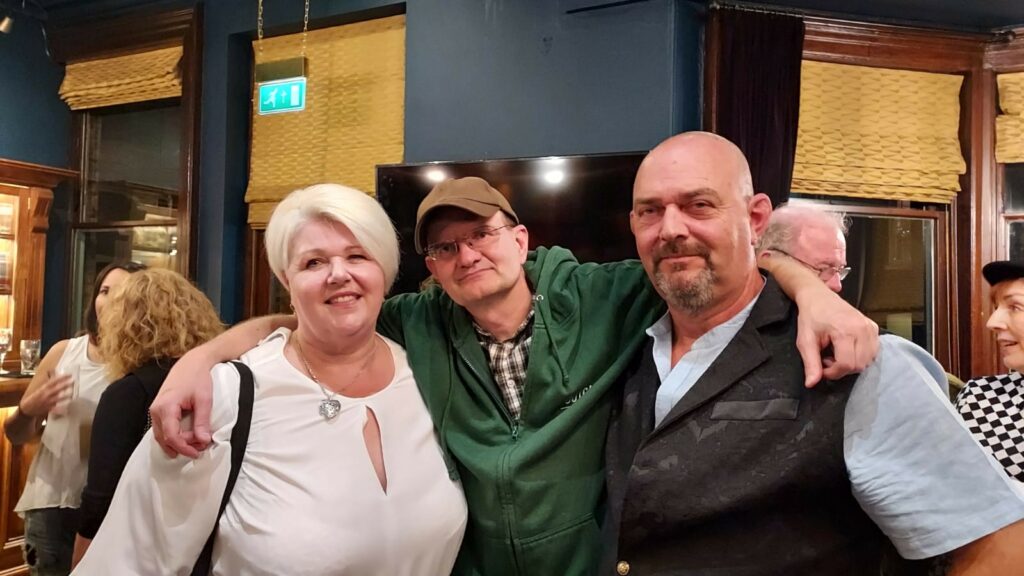 "I didn't know what to expect. How can a play be made out of this catastrophe? Is it really entertainment? Well I laughed and cried, sometimes at the same time!! The whole cast were really amazing and somehow they just get it. I still haven't fathomed out how, but they truly captured the highs and lows. Very clever with such minimal resources! I found it really emotional at times but Hubby wants to go to watch it again in London so I might just repeat the experience if that is at all possible. Summing up: intimate, emotional, clever, respectful, memorable, funny, gut-wrenching, astonishing, honest, raw and proud all at the same time."
John O'Sullivan said:
"A special delivery from Outcasts Creative. As a serving Subpostmaster with a payout from the Historical Shortfall Scheme I travelled to the last night of the play at the Old Joint Stock Theatre in Birmingham not really knowing what to expect. Could it tell me things I didn't already know? Would a play about the largest miscarriage of justice in our legal history really entertain? I neednt have worried. It did all that and more. The play is aware of the absolute trauma Subpostmasters went through and what people and trade bodies put them through it. As in real life the victims are dignified, law-abiding members of communities. Those prosecuting were out-of-touch Brand Zealots. The anger and frustration of the Subpostmasters is well-portrayed. As for the villians – well – go along and boo and jeer them!"
Ian Henderson from Second Sight wrote: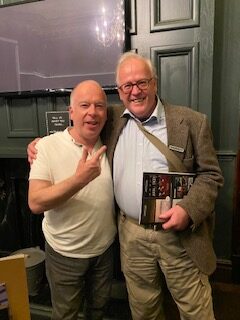 "I was fortunate enough to see False Accounts at the intimate Old Joint Stock Theatre in Birmingham on Thursday 20 October. An extra bonus was meeting a number of former subpostmasters who were supporting the event.

The Outcasts Creative team achieve the near impossible in creating a satirical romp through 20 years of scandal telling the story of the greatest miscarriage of justice in English legal history in a way that is both informative and entertaining.

Told in the form of a series of short vignettes linked by a narrator, it covers most of the key moments and deals sensitively with difficult issues such as the suicide of a former subpostmaster. All of the main participants were name-checked and some were portrayed in a unique and highly amusing manner, such as the muppet caricature of a senior member of Post Office management.

Essential viewing for anyone with a professional interest in this subject or indeed anyone who wants to learn more about this appalling scandal."
False Accounts will run at the Questors Theatre in Ealing from 1st to 5th November. Saturday's matinee will be followed by a Q&A with a former Subpostmaster who will discuss their personal experience of this disaster. Buy your tickets here. I am not connected with this production in any way, but I am looking forward to going along to see it myself on the evening of 5 November.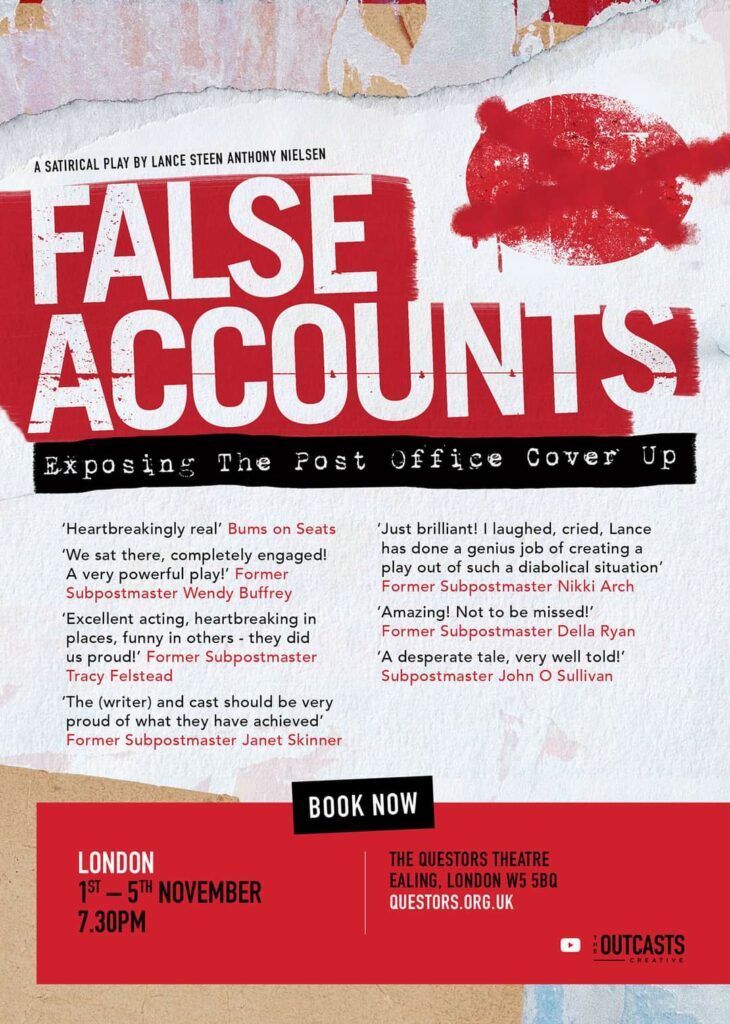 ---
My work on the Post Office Horizon IT inquiry is crowdfunded. If you'd like to contribute, please click on the widget you should be seeing to the right of this text (or below if you're reading it on a mobile). To find out more before donating, please go to my tip jar web page. All contributors will be added to the 'secret' email newsletter, which offers irregular, and at times, irreverent insight into the machinations of the inquiry and the wider scandal.