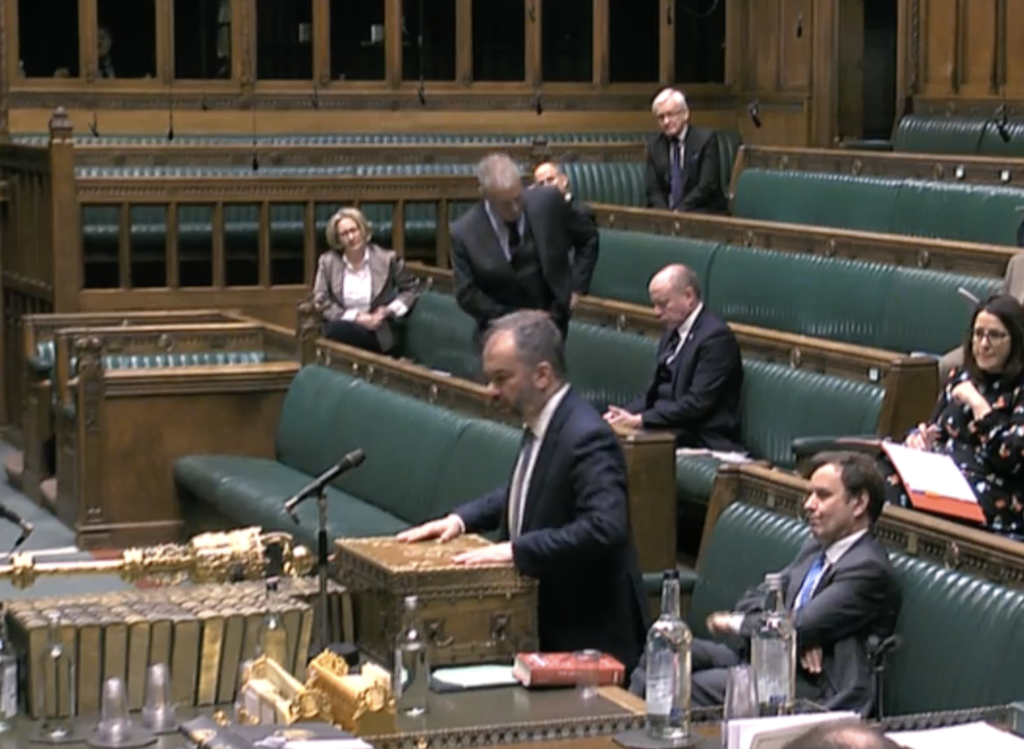 This scandal has been characterised by many things, but one of the most striking is the absolute relentless determination of backbench MPs and peers to hold the government to account.
To my mind, it is a racing certainty that without consistent pressure from parliamentarians of all stripes, the government would not have made available £1bn in compensation to wronged Subpostmasters outside the High Court litigation settlement, nor would we have a statutory inquiry.
That is not to belittle for one moment the excellent work done by campaigners, lawyers and other professional people who care about what happened or who were affected by it, but the sound and fury – particularly since the settlement in Dec 2019, has been something to report.
Bridgen the gap
Thursday was a case in point. Andrew Bridgen MP secured a debate. Once more the Post al Affairs minister Paul Scully was forced to the despatch box.
Scully's first statement spoke of compensation to the 555 Subpostmasters locked into the settlement agreement which gave them a fraction of the compensation they are owed.
Scully again admitted:
"It is unfair that they received less compensation than those who were not part of the case. I cannot yet report a resolution of that legally complex issue, but we are doing everything we can to address it."
For the Members listening, that did not cut it. Andrew Bridgen, Michael Rudkin's MP, responded:
"They deserve justice and adequate compensation now—not in months and years when the Department, which is partly culpable for the situation, finally gets its act together."
Scully replied:
"The 555 have been pioneers in this area, and I will absolutely work at speed. I do not want this to go on a moment longer than necessary, which is why we have tried to do everything we can to short-circuit any bureaucratic processes to be able to get on and compensate everybody fairly."
Not good enough
He was pressed again, this time by Kevan Jones, Tom Brown's MP and a long-term campaigner for the Subpostmasters:
"if the problem is the Treasury, can he not call that out now, so that we can put the fire on the Chancellor of the Exchequer to ensure we get the funding that is needed properly to compensate these individuals? The Minister knows as well as I do that this scandal will not go away."
And this was when Scully came back with something new. He replied:
"There is no single blockage in the Treasury. We are trying to work through the holistic view about where the money is coming from… We are also trying to unpick that legal settlement… That will take a few days, but I want it to take days, not months—certainly not years—and I am working as quickly as I can to get that resolution. I am really hoping that I will be able to come back to the Despatch Box and have good news for him in the next few days." [my emphasis]
Siobhan Baillie, Nicki Arch's MP, caught the significance immediately:
"I was going to press him on a timeline, but I think he said days, not weeks or months. Will that be the case…?"
Scully backtracked slightly:
"I am working at pace and need to give myself a little bit of leeway, but it is days or weeks—it certainly will not be a moment longer than is necessary to put these people out of their misery and give them compensation and justice."
David Davis got to his feet and, describing himself as "a long-term Whitehall hand", said:
"I see the symptoms of a Minister caught between the jaws of the Treasury and Whitehall lawyers. Lawyers do not always deliver justice and the Treasury rarely does. What I will say to him is this: nobody deserves justice more than the 555. They opened up the worst miscarriage of justice in modern Government. If it helps him in his battle to get this done quickly and properly, I will say this to him: if he cannot do it, we will find a way of having this House instruct the Government to do it. Let him use that in his battle with the Treasury and the lawyers."
Scully rather limply responded: "any pressure will be gratefully received."
But anyone watching will now know that the jig is finally up. The civil servants and lawyers at the Treasury and BEIS will no longer be able to keep blocking fair compensation to those who deserve it most. Parliament is simply not going to let them.
You can read the full debate here, which I recommend, as it is relatively short. Or watch it here on parliament.tv
So – it looks as if the 555 civil litigant claimants can expect to be hearing some welcome news, and soon.
Addendum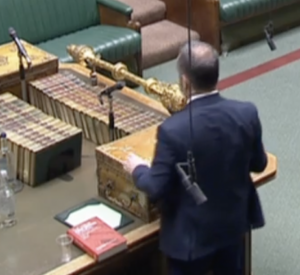 A couple of weeks back, Paul Scully tweeted that he was reading my book, which was good to know. On Thursday, (possibly because he is finding it difficult to put down?) he brought it into the House of Commons debating chamber. Given that less than twelve months ago this book had only just been commissioned and lived as nothing more than an idea inside the laptop on which I am currently typing, please forgive me for having a little moment when I saw it nestling there by the despatch box. I hope lots more powerful people read it, and I hope it has an effect.