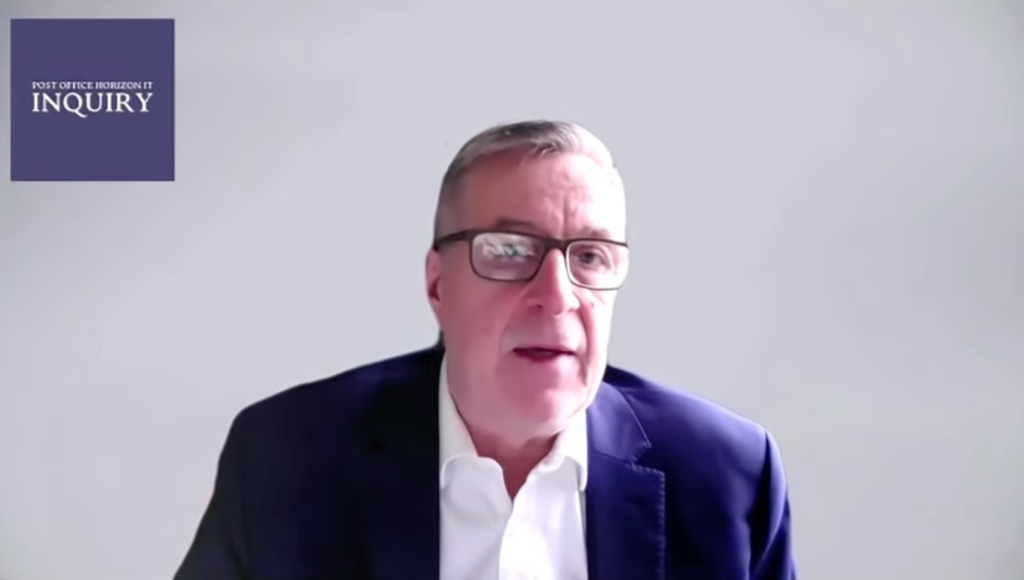 Brian Trotter is a Post Office lifer (1980 – 2020) and former contract manager who has been either directly or indirectly involved in the auditing, suspending and sacking of several Subpostmasters. He gave evidence in the first Bates v Post Office trial, where he was cross-examined on the case of former Subpostmaster Louise Dar.
In his 2019 judgment, Mr Justice Fraser said Trotter's written evidence to the trial was "inaccurate" and that he:
"seemed extremely nervous about giving evidence before me that he thought might be unhelpful to the Post Office".
On Thursday last week, Mr Trotter gave evidence to the Post Office Horizon IT inquiry. Trotter was asked if he ever thought there were bugs, errors or defects with the Horizon IT system, which threw up discrepancies in Subpostmaster accounts. He replied:
"I'd always thought it was fit for purpose and operated as intended."
He was taken to a series of emails which had been sent, forwarded or cc'd to him whilst he was in post, describing a serious Horizon error, known as the Callendar Square bug. It affected a number of branches. In one email, Fujitsu engineer Anne Chambers wrote:
"This problem has been around for years and affects a number of sites most weeks."
Trotter admitted that this should have caused him to be alarmed.
Ruth Kennedy, a barrister to the inquiry pressed him on it, asking:
"What would it have taken for you to go to your line manager and say 'This is a real issue, I'm worried about the system'? Would it have been someone saying to you there's a problem with the system we need to take action? What would it have taken?"
Trotter said he would have left it to "somebody more qualified than me".
Bugs notwithstanding, Trotter was pretty sure he knew what was causing discrepancies in Postmaster branches. In his witness statement to the Inquiry, he wrote:
In the cases we investigated, the issues were resolved by training, if there was a suspension by appointing
a temporary/replacement postmasters or explained by admissions from postmasters. As a result, there was
a context which pointed towards human error being the cause of issues and not system errors.
Trotter was challenged on this by Kennedy. She asked him why the Callendar Square bug, which Anne Chambers said had been around for "years" was not a "huge wake up call". Trotter replied that he was:
"trying to do the best that I could do with the information that I had in speaking to people within my sphere."
When Kennedy had finished, Chris Jacobs, a barrister representing Louise Dar, reminded Trotter of Dar's witness statement to the Inquiry, in which she wrote:
"I was treated like a criminal by the Post Office. The Post Office audit team were extremely callous and made no attempt to find the root cause of the alleged shortfalls. Specifically, Brian Trotter my contacts manager, was particularly keen to get me to admit to falsifying the books. He asked me to admit to this several times."
Trotter said he was "shocked" by this, adding:
"I can't prove this discussion didn't take place but it's not the sort of thing that I would have been saying to anybody."
To summarise, Mr Trotter made assumptions that all problems in the branches he looked after were down to poor training, incompetence or theft. He gave inaccurate evidence to the High Court, and was observed by the judge to be very reluctant to be unhelpful to his employer of (at that stage) 39 years. A Subpostmaster, in a sworn witness statement, gave evidence that Trotter tried to bully her into making a false confession of a criminal offence.
Just the person to be re-hired by the Post Office to help them work in the historical matters unit dealing with Postmasters' claims, specifically their Suspension Pay scheme – compensating Subpostmasters for being unfairly suspended without pay.
Within hours of Trotter telling the Inquiry he was back at the Post Office, I received an email from the wife of a former Subpostmaster who was suspended without pay. She told me "This man [Trotter] suspended my husband, who ultimately had his employment withdrawn. How can we or others get a fair hearing under this scheme?"
I asked if they had applied to the scheme. She told me:
"We don't know what to do yet… it's like entering a nest of vipers."
I asked the Post Office if Mr Trotter's ignorance of Horizon issues (and tech in general) and his apparent bias towards his employer made him suitable to help the Post Office make decisions about compensation. And I asked specifically about the obvious potential conflict of interest which could arise if he is adjudicating on cases he had an active role in.
The Post Office said:
It's for the Inquiry to independently reach conclusions in due course on all the matters it is examining. We are participating fully in the Inquiry. It would not be fair or appropriate to comment about individual witnesses.
As this didn't make any sense, I had another go. The Post Office said:
We are committed to fair compensation for Postmasters affected by the scandal. We are continuing to make offers and payments every week, whilst also providing independent ways in which Postmasters can raise disputes or concerns.
Mark Baker, a former CWU Postmaster rep said on twitter:
I only had dealings with [Trotter] once. I took an instant dislike to him. He treated Scotland like his personal mafia territory he didn't like it when the CWU rocked up to defend a Postmaster. He is also a serial witness for the Post Office. He has produced witness statements in the Horizon litigation, the Group Employment Tribunal claim and now the Horizon Inquiry. Each time seeking to show his employer in the best possible light.
---
My work on the Post Office Horizon IT inquiry is crowdfunded. If you'd like to contribute, please click on the widget you should be seeing to the right of this text (or below if you're reading it on a mobile). To find out more before donating, please go to my tip jar web page. All contributors will be added to the 'secret' email newsletter, which offers irregular, and at times, irreverent insight into the machinations of the inquiry and the wider scandal.