Inquiry chair writes to the Post Office, Fujitsu and government immediately after hearing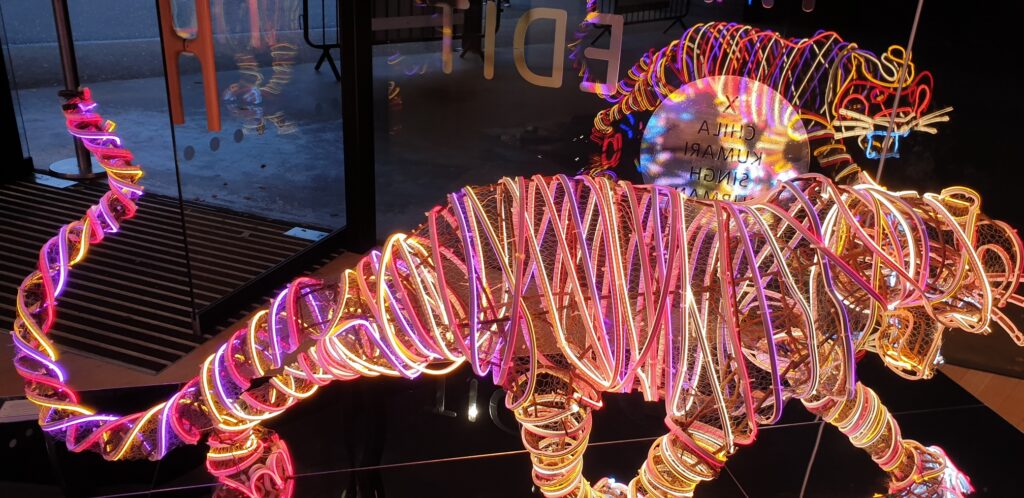 Today's hearing at Juxon House (in the shadow of St Paul's Cathedral just over the Millennium Bridge from the Tate Modern, hence the picture above) was described by Sir Wyn Williams as the first "truly open session" of the Post Office Horizon IT inquiry.
It certainly had some effect. Immediately after the session was concluded, Sir Wyn wrote to the Post Office, government and Fujitsu demanding they provide him with full access to hitherto secret documents in their possession.
Sir Wyn wants "a waiver of privilege in respect [of] legally privileged material" held by the three groups "dated from the date of the first pilot of the Horizon IT System to the Prime Minister's announcement to hold an inquiry on 26 February 2020."
Why was he so exercised? Well – either he had made up his mind before the hearing had begun (which I am sure, being a good judge, he would never do). Or he heard enough alarming evidence and solid arguments for the need to waive privilege over the course of the day, he felt moved to act immediately.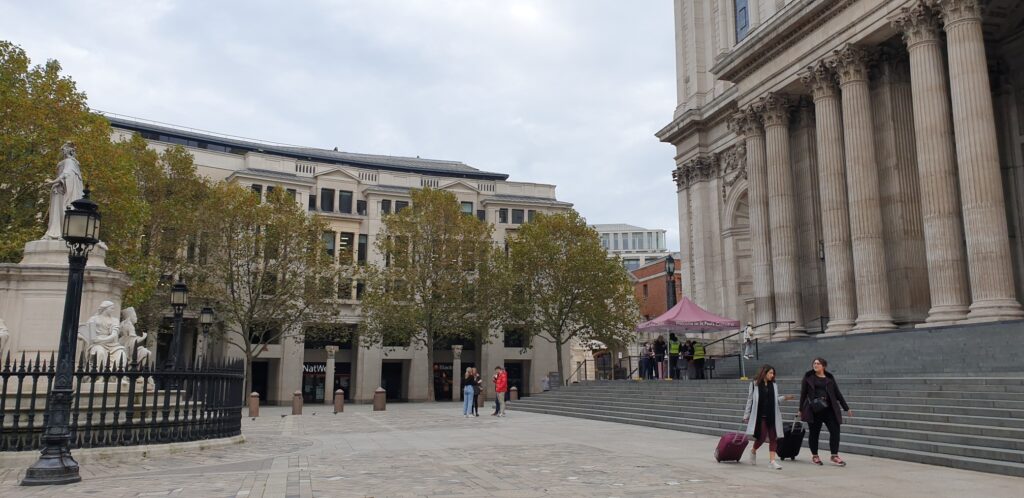 The hearing was attended by representatives of HMG, the Post Office, Fujitsu, the Met Police, Paula Vennells, the NFSP, CWU as well as legal representatives of very many Subpostmasters. If you would like to read the live tweets from today – which contain lots of direct quotes and links whilst also hopefully giving a flavour of what it was like to be in the room – please click here. It was possible to watch the inquiry on a live youtube link on the inquiry's channel. This no longer works, which is disappointing. I hope this is a temporary situation.
The day kicked off with a recognition from Sir Wyn that the issue of legal professional privilege was extremely important and needed to be addressed.
Show them the money
Statements were made by representatives of the Subpostmasters who are central to this inquiry, the lengthiest by Sam Stein QC, who was speaking on behalf of the 151 Subpostmasters who have signed up with Howe and Co solicitors.
Mr Stein touched on many areas, but his main theme was redress, redress, redress. He argued the government and the Post Office should be compelled in the strongest possible terms to provide the Subpostmasters who have suffered so much and for so long, with proper, immediate and effective compensation. Howe and Co recently wrote to Nick Read demanding compensation (the letter can be read here). Mr Stein revealed they had had a response. The Post Office said it has "been in contact with the Government in this regard and will continue these discussions on the group litigation settlement figures."
This is a huge shift from last year's "full and final" rubric about the litigation settlement which the government was spouting last year, but not significantly different from what the Postal Affairs minister Paul Scully told me on Episode 11 of Radio 4's The Great Post Office Trial earlier this year.
A shorter submission was made by Tim Moloney QC on behalf of those Subpostmasters represented by Hudgells, which again was about the need to focus minds on waiving privilege. As he pointed out:
"The Convictions of the Core Participants that we represent were quashed in April which is some seven months ago, and yet no decision has been made in relation to privilege – and we'd ask Post Office to heed your encouragement in respect of that decision-making."
Then we heard from the National Federation of Subpostmasters. Their CEO Calum Greenhow gave a very good speech, but somehow forgot to mention the NFSP's culpability in this scandal. Nor did he invite the inquiry to examine it.
Ian Henderson from Second Sight asked the inquiry chair to ask the Post Office if his organisation can be released from the NDA and other contractual obligations to the Post Office so they can better serve the inquiry.
Getting ethical
The final two speakers were Professor Richard Moorhead from Exeter University and the barrister Paul Marshall. Both made intriguing submissions which drew attention to some of the darker corners of this scandal, and in doing so, made the case for putting pressure on the Post Office and government to surrender documents they have so far failed to make public.
Professor Richard Moorhead is a leading legal ethicist. He brought a moral dimension to the inquiry, stating clearly that morality is one of the bases on which the Post Office and government should waive privilege, adding "I don't see how they can come to the inquiry and claim to be co-operating without doing so."
He also brought the inquiry's attention to a letter Paula Vennells (former CEO of the Post Office) wrote to the MP George Freeman in June 2015.
In the letter, Vennells says:
"Through our own work, and that of Second Sight, we have found nothing to suggest that, in criminal cases, any conviction is unsafe."
Prof Moorhead called this statement:
"palpably false, whether Mrs Vennells knew it or not. It is a statement made by the senior manager of POL, and very likely indeed, with the assistance of lawyers directly reviewing or drafting the letter, or indirectly, through previous advice which is being used here. Lawyers and managers were involved and responsible. Lawyers and managers are mutually responsible for this irresponsibility."
Prof Moorhead addressed Sir Wyn:
"You must investigate them both if the lessons are to be learned and similar problems are not to occur again. They cannot hide behind privilege whilst shifting blame."
He finished with an analogy which I would put good money on turning up in the Daily Mail tomorrow, telling Sir Wyn:
"Considering the Horizon saga without considering the lawyering would be a bit like considering Watergate without considering the White House Tapes. Telling, perhaps vital information will be missing. The abuses of power. The injustice… who did it and why will not be properly understood. Sir, to discharge the inquiry's remit you must do the equivalent of listening to those tapes."
Marshall's motivation
Paul Marshall is a barrister who used to represent Seema Misra, Janet Skinner and Tracy Felstead. His efforts (with others) in making the case for his clients' and other Post Office prosecutions to be ruled an affront to the public conscience are well-documented. Mr Marshall remains highly motivated by this scandal and I suspect will be a useful participant in this inquiry. He raised several issues – the need for full disclosure of privileged material (of course), the "aggressive delay" the Post Office has deployed, stopping his former clients to receive timely justice, and the curious possible case of a conflict of interest with regard to Brian Altman QC, who both wrote the secret Altman Review back in 2013 and represented the Post Office during the Court of Appeal hearing in 2020 and 2021.
Dealing firstly with the delay to justice, Marshall said:
"Article 6.1 of the European Convention for the Protection of Human Rights and Fundamental Freedoms provides that "everyone is entitled to a fair and public hearing within a reasonable time by an independent and impartial tribunal established by law".
"Violation of the Article 6 right is separate from the issue of whether the trial was fair or an abuse of the process…. Tracy Felstead, Janet Skinner and Seema Misra had to wait a combined total of 44 years for their convictions to be quashed. Is that period excessive and unreasonable? It plainly is. It follows that their Article 6 rights, that are guaranteed by the state have been violated. Given that these rights are rights that are guaranteed and that have been violated is it not time that this be both acknowledged – and more importantly explained?… Tracy Felstead, Janet Skinner and Seema Misra by law are entitled to that acknowledgement and an explanation."
On the Altman issue (previously alluded to by Prof Moorhead in a different document), Marshall says this:
"You will know from my brief written submission that Mr Simon Clarke [a barrister – author of the Clarke Advice on Disclosure and the Clarke Advice on Shredding] undertook a review of Mrs Misra's criminal prosecution, I believe in early 2014. The stated purpose of his review of Mrs Misra's prosecution was very limited. It was to consider whether the Second Sight report or the Helen Rose reports should be disclosed to Mrs Misra. The extraordinary thing about Mr Clarke's review, is that Mr Clarke was not provided with the Post Office's prosecution file. In his advice he records that he was only provided with transcripts of Mrs Misra's trial…. Given the emergence of the "shredding advice" shortly before the Court of Appeal hearing, one is bound to enquire as to whether Mr Clarke had intentionally withheld from him the prosecution file. I have also referred to this in the context of Second Sight's requests for prosecution files, that were refused, it seems by the Post Office's General Counsel, [Chris] Aujard, and were the subject of the Select Committee hearing a year later. The second reason I refer to this, is that the very restrictive nature of the reviews of at least Mrs Misra's prosecution is not, I think, well known. The Post Office has made much of having undertaken reviews of its prosecutions following the Clarke Advice in 2013. In the light of what I have said, there is an obvious, serious and substantial question of the thoroughness and completeness of those reviews. Had the Second Sight Interim Report been disclosed to Mrs Misra in 2013/2014 it would have put any competent lawyer on energetic inquiry. The only additional thing I shall say at this point, is that in Mr Clarke in early 2014 advising the Post Office against disclosing the Second Sight Interim Report to Mrs Misra, Mr Simon Clarke expressly relied upon the written advice of Mr Brian Altman QC.
The day after I received Mr Clarke's advice in November 2020 I raised with Mr Altman the question as to whether, given an issue in the appeals was the adequacy of disclosure given by the Post Office and that he appeared to me to have advised the Post Office on its disclosure obligations in 2013, there might be an issue of an apparent conflict of interest."
Why does all this matter? Here are excerpts from just two emails I have received from former Subpostmasters in anticipation of today's hearing. One wrote:
"Today, for us all, is massive. I have fought for this for more years than I want to remember. A broken marriage, suicide attempts, no friends, no belief. no nothing…. I'm tired. I want justice… but the damage is done. My life was and is changed, that can never come back. My community, trust, working silly hours… all the people I lived for…. gone. I'm mentally exhausted. I want heads to roll. They lived behind their lies. They know who they are, as do we. So much is made of money. Forget it. We want people who knew what they were doing to feel our pain."
The other said:
"I'm now a pensioner in ill health and live with my daughter. I really worry if anything happens to me, she will be on the streets homeless. We have to privately rent which she couldn't afford on her own. I used to have such a beautiful house of our own before we bought a damn Post Office. Back then our house was sold for over 150k in 2003. Imagine what it would be worth now. My daughter is the one affected most by all this as we have had to move so many times. I just want some security for her. I'm a participant in the inquiry and hope it's not dragged out for too long."
There are still so many hidden victims in this scandal, hurting in silence. I hope Sir Wyn's sudden urgency continues and drives this inquiry forward.
I am told a transcript of today's hearing should be posted on the inquiry website tomorrow. Thanks for reading!
I have written a book called The Great Post Office Scandal, which will be in shops 18 November 2021. If you would like to buy a pre-sale copy, please click here. This is what people are saying about it: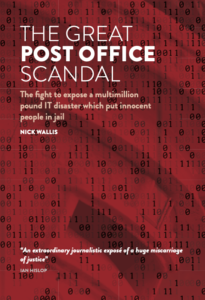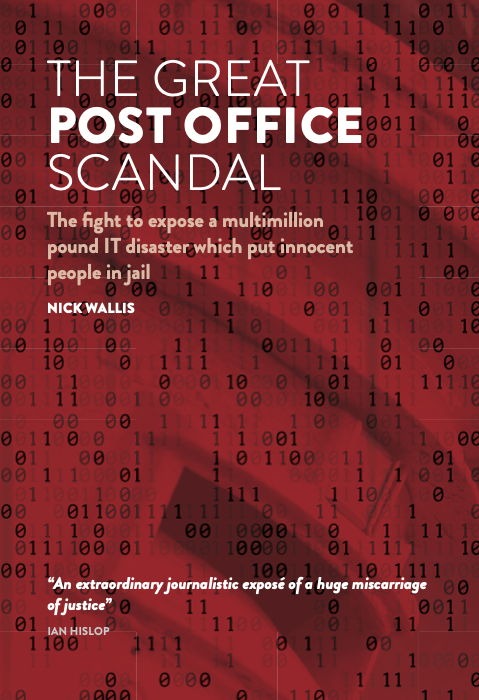 Ian Hislop: "An extraordinary journalistic exposé of a huge miscarriage of justice."
Mishal Husain: "The definitive account of the scandal."
Rev Richard Coles: "A tale brilliantly told. I urge you to read it."
Joan Bakewell: "Nick's narrative has the power of a great thriller."
10% of the book's revenue will go into a fund help Subpostmasters who need help. More on this, soon…!