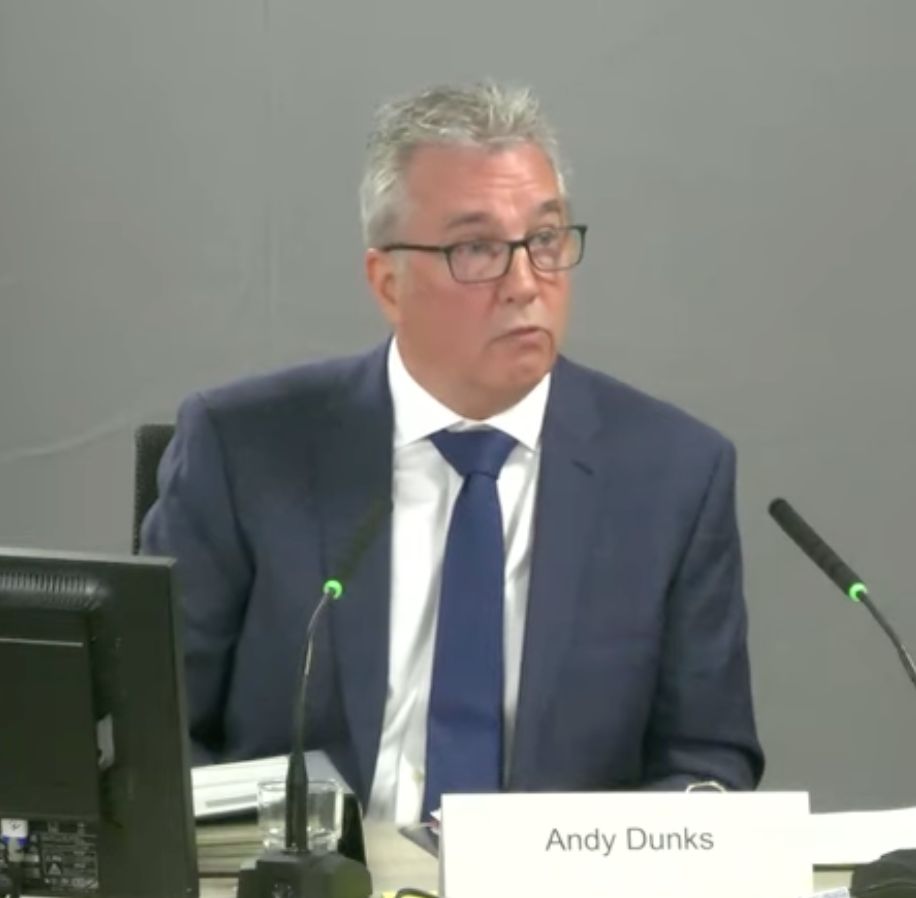 The man in the photograph, Andy Dunks, gave evidence at the Post Office Horizon IT inquiry this week. He works for Fujitsu. In the days when the Post Office wanted to prosecute Horizon users for crimes of dishonesty, it would go to Andy at Fujitsu for ARQ (Horizon's audit record query) data or a log of helpdesk calls.
Andy was the cryptographic key manager for the Horizon system, working in Fujitsu's Customer Service Post Office Account Security Team. Starting in 2002, Andy would extract data for Postmaster prosecutions, "analyse" or "summarise" it and attach it to a signed witness statement saying there were no problems with Horizon.
His statement (and this is taken from a standard Fujitsu witness statement) would say something like:
There is no reason to believe that the information in this statement is inaccurate because of the improper use of the computer. To the best of my knowledge and belief at all material times the computer was operating properly, or if not, any respect in which it was not operating properly, or was out of operation was not such as to effect the information held on it. I hold a responsible position in relation to the working of the computer.
This was usually enough to satisfy both the Post Office's criminal prosecutors and the individual Subpostmasters' defence teams, none of whom, you can bet, had the training or knowledge to challenge it.
Liar, Liar
When Andy Dunks gave evidence on behalf of the Post Office during the Bates v Post Office High Court litigation in 2019, he told the court Fujitsu had no "party line" when giving evidence on behalf of the Post Office. This was not true. In his judgment to the Horizon Issues trial, Mr Justice Fraser wrote:
There plainly is [a party line] it was used in the Fujitsu statements in 2010 and it was used by [Andy Dunks] in his statement for the Horizon Issues trial.

par 294, Judgment (No.6) "Horizon Issues", Bates and others v Post Office
Mr Justice Fraser ruled that Fujitsu Andy had "expressly sought to mislead" him. Naughty Andy.
Six months later, in a letter to the BEIS [Business Department] Select Committee, Rob Putland, Fujitsu UK's Senior Vice President told the chair of the committee, Darren Jones MP:
If it emerges that any current employee intentionally misled the court or otherwise failed to meet the standards expected from Fujitsu, then they will be dismissed.
In doing so, Rob Putland misled Parliament, because three years later, look who trotted along to the Post Office Horizon IT Inquiry on Wednesday: Andy Dunks – still very much employed by Fujitsu.
This time Andy was very keen to tell the Inquiry (read the full transcript here) there was a standard template when it came to providing witness statements to the Post Office about the integrity of Horizon data.
This caused a potential problem, spotted by Jason Beer KC, lead counsel to the Inquiry. If the standard template dealing with calls to the helpdesk said:
None of these calls to the helpdesk relate to faults that would have had an effect on the integrity of the information held on the system…
– which it did – how did Andy know what the standard template said was true?
The answer turned on Andy's concept of the words "analyse" and "summarise". In his witness statement, Andy said he summarised the call logs. In his oral evidence, he said he would analyse them. When Jason Beer asked which it was, Dunks said:
Well, that — to summarise — my understanding is to summarise the calls and — but part of the witness statement is the wording of the witness statement. The summarisation is of the calls, not the wording of the witness statement.
Which is just word soup. Over a torturous half hour of cross-examination, Beer tried to drill down into what it was which qualified Dunks to give witness statements. It turns out Dunks didn't know the difference between Horizon's ARQ data, Credence data, raw data and enhanced ARQ data. He also (despite turning up to court to give evidence in the prosecutions of Subpostmasters) didn't know the difference between civil and criminal courts. It also transpired that even though he had been cc'd in documents detailing accounting errors in Horizon caused by software bugs, Dunks believed that this could not happen, explaining the apparent contradiction by telling the Inquiry he didn't read every document he was sent.
You know this is serious, right?
Dunks' lack of curiosity and knowledge about potential and real errors with the Horizon system is, and I say this with perhaps some understatement, troubling. Dunks became aware of the campaign by the Justice for Subpostmasters Alliance whilst Postmasters were being prosecuted, but told Jason Beer he did not seek any internal clarification about it. It led to the following exchange:
JB: You just carried on providing the witness statements?
AD: In my – our area of the team, no, I don't think we did discuss [the Postmasters' campaign] at all.
JB: Looking back, do you think it ought to have been the topic of some discussion?
AD: At a higher level, possibly. Whether that went on, I don't know. It wasn't for us to discuss or make judgement.
JB: You were the one that was going along to court or providing witness statements?
AD: Yeah.
JB: It was your name at the bottom of the piece of paper that was signed?
AD: Mm-hm.
JB: Saying, "This is true"?
AD: Mm-hm.
JB: "I know I can be prosecuted", I think it would have said.
AD: Mm-hm.
JB: "… if I have stated in it anything which I know to be false."
AD: Yes.
JB: Did you not think that was quite a serious undertaking you were engaged in?
AD: Yes, I did.
JB: You heard, through the media and the like, that the Subpostmasters were saying, "There were faults in the system, the Horizon System, that are causing discrepancies for which I am not responsible." You were providing witness statements at the same time, saying, "There is nothing that I've seen in the documents I've examined that could explain
a system-generated discrepancy"?
AD: Well, as you just stated, I would have probably taken it as it's their opinion that there's something wrong. I'm not – wasn't aware there was something wrong, so I still believed my statement, on the witness statements I gave, were true at the time.
Rickrolling along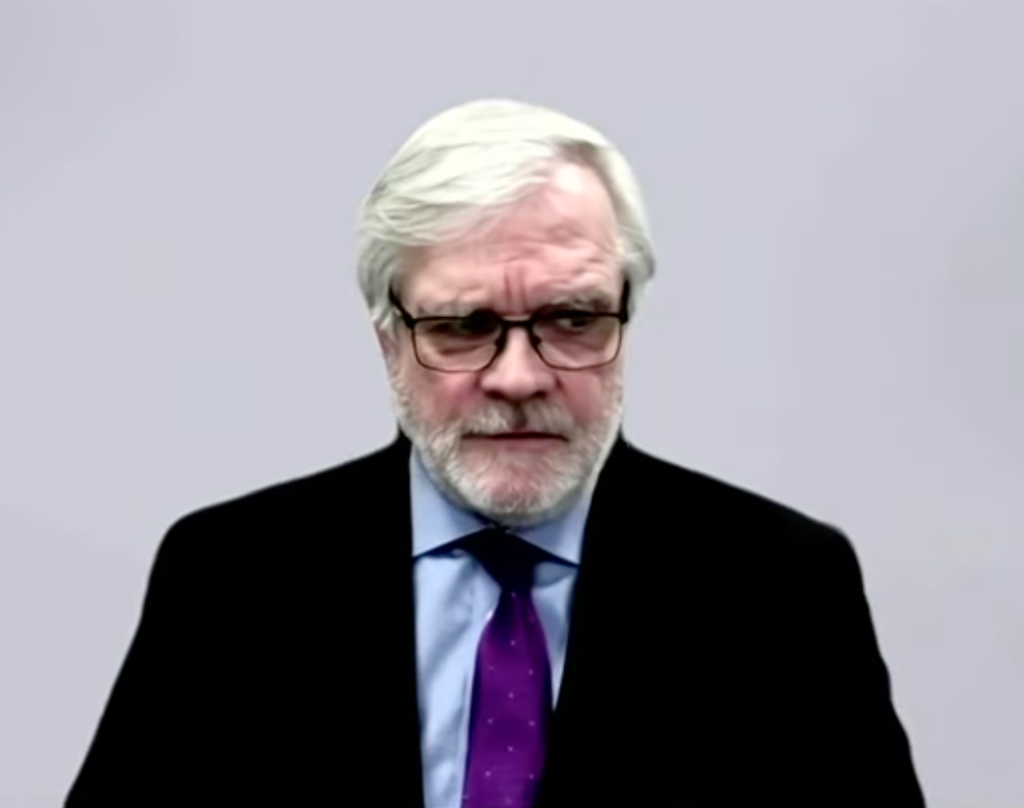 Dunks' lack of knowledge about the Horizon IT system and its propensity for causing errors was highlighted the day after he gave evidence to the Inquiry. Testimony on Thursday 9 March was provided by Richard Roll, a third line Service Support Centre (SSC) engineer at Fujitsu from 2001 to 2004. Richard has told Panorama (twice) and the High Court about the constant battles required to keep Horizon from falling over when he worked there.
On Thursday Roll described the Horizon coding he inherited as a "mess" and detailed the ease with which he and his colleagues were able to go into Postmasters accounts and change the the software in them in order to fix bugs.
Roll was asked by Jason Beer if he had heard of Andy Dunks, cryptographic key manager of the Horizon IT system within Fujitsu's Customer Service Post Office Account Security Team.
Roll said: "No."
Beer asked him if he knew what Dunks did:
JB: Can you recall a job title or role being undertaken of the cryptographic key manager?
RR: There was a key, which was a crypto key, if you like, which was generated by a secure PC in a locked room within the SSC, bearing in mind that the SSC itself was on the sixth floor of a very secure building behind double doors that were extremely secure. It was a very, very secure area. But that's about all I can remember.
JB: Mr Dunks was the manager of the cryptographic key. We've heard from him recently. I think it follows from what you've said that you didn't have any or you don't recall any liaison with him or the security team?
RR: No.
JB: We know that he, the cryptographic key manager, was selected to give evidence by provision of witness statements and giving oral evidence in court, about what you and your team in the SSC had done in response to calls to the SSC and the work that your team had undertaken as recorded on call logs. Do you understand?
RR: Right.
JB: Do you know why one of that team, the customer service team, and, in particular, the person that managed the cryptographic key, was selected to give evidence about what you and your team were doing in the SSC?
RR: No.
JB: Did you ever hear any discussion or were you ever party to any discussion about why Mr Dunks, the crypto
key manager, was giving evidence about what was or wasn't shown on helpdesk call logs that were completed
by you and members of your team, rather than a member of you and your team giving evidence?
RR: No.
What conclusions can we draw from all this, then?
Well – on the face of it, Fujitsu Andy appears to have been in the business of giving incorrect or misleading witness statements to the Post Office in order to better assist it in the false prosecution of innocent Subpostmasters.
In each case Mr Dunks clearly believed he had done the minimum required to satisfy his limited worldview that what he was doing had validity, and what he was saying was true. Otherwise he was potentially committing a criminal offence.
This raises questions as to Fujitsu's organisational integrity.
What did Fujitsu do to make Mr Dunks aware of the seriousness of his evidence and the need to ensure it was completed to exacting standards?
Who at Fujitsu knew it was allowing Mr Dunks to feed witness statements about information he didn't understand into a judicial process he had no real knowledge of, with catastrophic consequences for the individuals at the wrong end of it?
What did Fujitsu say to Andy Dunks before he expressly attempted to mislead a High Court judge?
Why is it that when Rob Putland told the BEIS Select Committee Fujitsu would dismiss anyone found to have knowingly misled a court, they didn't sack Andy Dunks?
Dunks has already been told he is likely to be recalled to the Inquiry. I also hope we hear from Mr Putland before the year is out, too.
---
My work on the Post Office Horizon IT inquiry is crowdfunded. If you'd like to contribute, please click on the widget you should be seeing to the right of this text (or below if you're reading it on a mobile). To find out more before donating, please go to my tip jar web page. All contributors will be added to the 'secret' email newsletter, which offers irregular, and at times, irreverent insight into the machinations of the inquiry and the wider scandal.