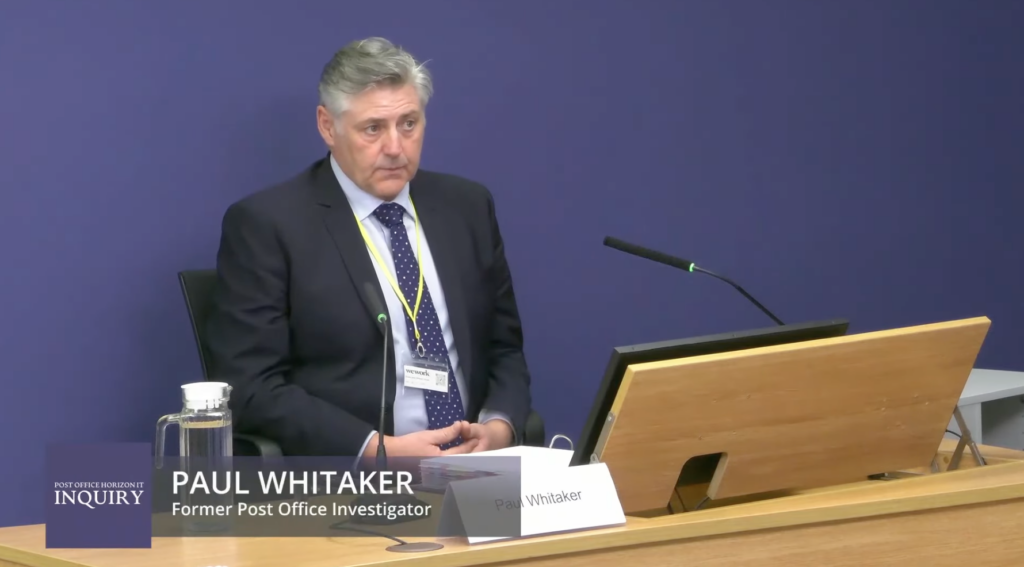 Paul Whitaker, as it says in the screengrab above, used to be a Post Office Investigator (and, almost inevitably, before that, a postman). In his evidence to the Post Office Horizon IT Inquiry on Thursday, Mr Whitaker was taken to a 2011 email chain regarding his investigation into a Post Office branch in St John Green in Rotherham.
The branch had been "audited" by the Post Office, and there was an £11,000 discrepancy. A counter clerk was under suspicion. Unusually, possibly because the branch was run by a charity, the police were involved. In his email to a colleague, Jane Owen, Whitaker states: "The case has been reviewed and the police officer has asked me to get a statement demonstrating the robustness of the Horizon system at the branch."
Whitaker tells Owen that a charity is running the branch and notes: "we were asked to get involved at the outset in order to possibly mitigate the adverse publicity of us demanding our money back from them."
As ever, business priorities and PR appear to be part of the equation, even when it comes to criminal investigations and justice.
The requested "statement demonstrating the robustness of the Horizon system" would have to come from Fujitsu. Before the request goes to Fujitsu, Owen passes Whitaker's request up the chain to another colleague, Penny Thomas. Owen writes: "Just wanted to run this by you before I make any kind of formal request. I assume that we will just request a statement as normal but would need to put it around some dates?"
Thomas replies that getting some dates might be a good idea, and this message is passed back down to Whitaker. Whitaker seems to think this is unnecessary, replying: "At present, the police haven't asked for Horizon records although I am sure that if they know we can provide them they will ask for them (and then not use them). All the officer asked was if we could provide a statement saying that the Horizon system was operating correctly in the run up to the shortage being identified."
Getting Dunked
The Thomas, Owen and Whitaker brains trust eventually agree to ask Fujitsu for a statement of Horizon's reliability within a six month window. The message reaches Fujitsu's Andy Dunks, a man who, in 2019, came in for serious criticism from a High Court judge.
But even Andy Dunks has standards. Replying to Whitaker's request, Dunks replies:
"I am unable to say for definite that the Horizon system was working okay. What I can do is look at all calls logged by this PO during the date range and state that there were no faults reported by the PO to suggest any faults. If you want me to get the calls extracted to examine the calls we will need ARQ numbers to cover this request. Please let me know what you would like us to do."
The prospect of anyone at the Post Office or Fujitsu doing even the most cursory investigative work seems too much for Whitaker, who decides that Dunks' response is enough for him. He replies:
"No need for anything beyond this, Andy. I have explained to the police that all you can say is that no faults were logged and they are happy with that."
To his credit, Dunks puts Whitaker straight. "I think you may have misinterpreted my email", he replies, "I have not said that no faults were logged. What I am saying is that if you want me to extract the calls logged so that I can examine them to see if there are any fault calls during these dates."
The rest of the email chain appears to be lost to history.
Yesterday, the barrister questioning Whitaker suggested that the limit of his investigative ambition was "seeking a catch-all statement from Andy Dunks in relation to a case where the police had asked for assurances about the Horizon system."
Whitaker was not asked to comment on this. Instead, the barrister wondered if Dunks' refusal to sign off on a blithe assurance about Horizon raised any alarm bells.
"It's difficult to say…" replied Whitaker, "my background was that it had always been sort of infallible and, certainly, I don't think it had been tested in court yet and I think the sort of underlying message would be… until we get something coming back certain to say definitely, you know, Horizon's at fault, to sort of carry on in the belief that it's not."
Belief. They investigated and prosecuted, fuelled by belief. No wonder so many innocent people were given criminal convictions.
---
My thanks to Nigel Derby who alerted me to this passage of evidence at the Inquiry.
---