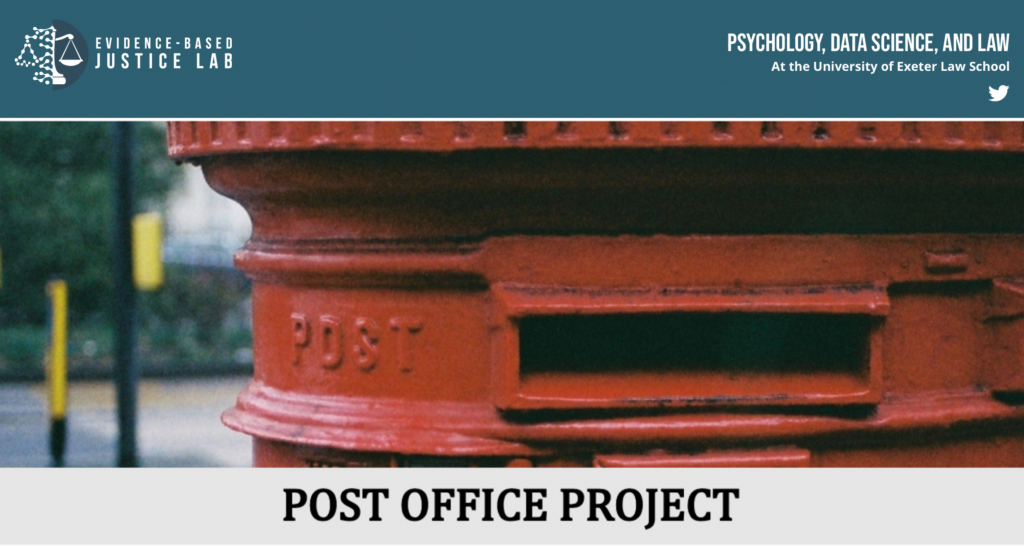 Professor Richard Moorhead will be known to some of you. He writes a well-regarded legal ethics blog ("Lawyer Watch") and a free substack site dedicated to matters arising from the Post Office Horizon scandal. He is also a member of the Horizon Compensation Advisory Board. In addition to this Prof Moorhead has been running various research projects looking into the Horizon scandal.
I have news of a new one. This, as it says below – is for any Subpostmaster, branch manager/assistant or Crown Office employee who was threatened with legal action or sued/prosecuted by the Post Office.
The press release reads as follows:
"A research team led by Professor Richard Moorhead at the University of Exeter are inviting you to take part in this research project looking into the Post Office Scandal.

In this study, we will be examining important issues arising from the Post Office Scandal, focusing on potential issues with the management of the Post Office, the criminal justice system, and the behaviour of lawyers. We wish to better understand how wrongful convictions and other injustices occurred on the basis of flawed computer 'evidence', and how relevant issues took so long to uncover.

In order to understand more about the scandal, we would like to speak with former sub-postmasters/mistresses or Crown employees that owned or worked in Post Offices, who had experience of the Horizon IT system, and had some form of legal action taken or threatened against them by the Post Office between 2000 and 2015.

This could include those who were convicted after a criminal trial, those who were acquitted after a criminal trial, those who were charged but had the criminal prosecution dropped by the Post Office, or those who experienced any kind of civil justice proceedings brought against them by the Post Office. Taking part will involve being interviewed by a member of our research team.

The interview is expected to take around 60 minutes. If you agree, we will audio record the interview (it will not be videoed). You can choose to take part in a face-to-face interview, which can take place in a location of your choosing, or an interview using Zoom.

You do not need to answer all the questions we ask and can end the interview at any time without giving a reason, should you wish. You may also have someone with you to support you. Your responses will be confidential and will be anonymised for our analysis to prevent you from being identified.

The results of this study will form part of our investigation into the Post Office Scandal and will be disseminated in a number of ways in order to attempt to prevent similar issues occurring in the future. Means of dissemination include, but will not necessarily be limited to, academic publications and policy-related work, and responses to the Horizon IT Inquiry .

If you would like to be involved in this study or would like any further information, please contact Richard Moorhead Professor of Law, University of Exeter Law School, Amory Building, Rennes Drive, Exeter, EX44RJ. Email: postofficeproject@exeter.ac.uk"
I have no connection to this project, but I can vouch for the professionalism and expertise of Professor Moorhead and his team – and the care they put into their work. Please do share this post in your networks. If you do get involved and don't mind telling me how it went – please get in touch through the usual channels. All communication will be in confidence.
---