…. plus: the Scottish Play(ers)
Hi there
Have you put the heating on yet? No. Me neither. I am currently wearing two jumpers and a hoodie and my fingers are freezing.
The Swift Review Saga continues…
The importance of the Swift Review has been underlined by Professor Richard Moorhead dedicating not one but seven blog posts to fisking its contents. Moorhead thinks and writes with precision, obviously has a very big brain and makes me feel thunderingly inadequate. His posts, though, are very accessible. I hope they will be seen by Sir Wyn Williams and interested parliamentarians.
Read the Swift Report and find the links to all seven blog posts here, or go straight to Prof Moorhead's substack here and sign up for free. He has promised three more posts to what is already an epic series. If you sign up, they will drop into your email inbox, as will his other thoughts on the Post Office scandal.
Dundee
I finally got round to watching the Future of Law Dundee seminar on the Horizon disaster hosted by Dundee University. It was chaired by Professor Angela Daly and attended by barrister Paul Marshall, former internal auditor and IT genius James Christie, Dr Andrew Tickell (a senior lecturer in law at Glasgow Caledonian University) and Dr Rachel Menzies (a senior lecturer in computing at the University of Dundee).
There were lots of fascinating takes, which I'll try to compile in a blog post soon, but I am particularly glad Dr Tickell is taking a proactive interest in the potential miscarriages of justice in Scotland and pushing the Crown Office and SCCRC to do or say something, indeed anything about them. I would recommend watching the seminar on youtube, though the camera angle and sound is not world class.
New podcast episode
I'm delighted to tell you that Episode 11 of Investigating the Post Office scandal podcast is now live. It features a chat with Tim Brentnall, a former Subpostmaster from Roch in Pembrokeshire, whose conviction was quashed last year. The joy of the podcast format is taking a relaxed, but fairly deep dive into peoples' experiences, and Tim's experience at the hands of the Post Office is horrific. Tim also has a debrief about his clandestine visit to the Post Office Horizon Inquiry last week, in the company of former Subpostmasters Sami Sabet and Parmod Kalia. You can find the podcast here on audioboom, or search for it on Spotify or Apple podcasts.
London walk
This is my last call to join us for a trot round central London tomorrow (Thu 29th Sep), meeting on the steps of St Paul's cathedral at 4.30pm and ending up in a pub.
Ian Fagelson will lead the way. It's all in aid of the Horizon Scandal Fund and Ian has raised a respectable £500 already. Your contribution (min £1) and company would be most welcome – click here to book. If you're already coming, I'm looking forward to meeting/seeing you.
See how they run
My publishers, Bath Publishing, are running the Bath half-marathon next month in aid of the Horizon Scandal Fund. If you can afford to, please bung them a few quid by sponsoring them here. They're trying to raise £500 and they've only got as far as £110. David and Helen have done wonders by agreeing to publish The Great Post Office Scandal when no one else would. They did it because they care very much about this story.
Surrey talk
I am doing a talk for £3 (including probably non-alcoholic refreshments) at Walton Library at 5pm on Tuesday next (4th Oct) as part of National Libraries Week.
I wrote a some of The Great Post Office Scandal (and am writing some of Depp v Heard: the unreal story) at Walton Library.
I will try to take the assembled through some of the agony/mild satisfaction involved in getting a book into print, whilst chatting about the stories I've covered. I'll also discuss the biggest lesson I've learned between writing book 1 and book 2, the advantages/disadvantages writing has over broadcast journalism, and offer some advice for anyone who wants to get into either.
If you fancy coming, please use this link to book your spot. If you are coming from any distance, there is a convenient multi-storey car park right next to the library.
Keep well and warm,
More soon,
Nick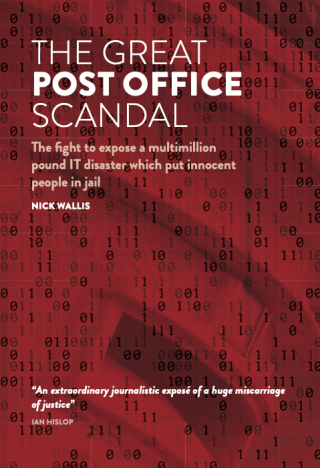 Please do forward this email to a friend. Everyone who buys a copy of the book through Bath Publishing will automatically be invited to join the "secret" email list.
The Post Office Horizon scandal is available as a hardback, ebook and audiobook. Click here to buy it. from Bath Publishing. Or here to find it on Amazon.