Back for more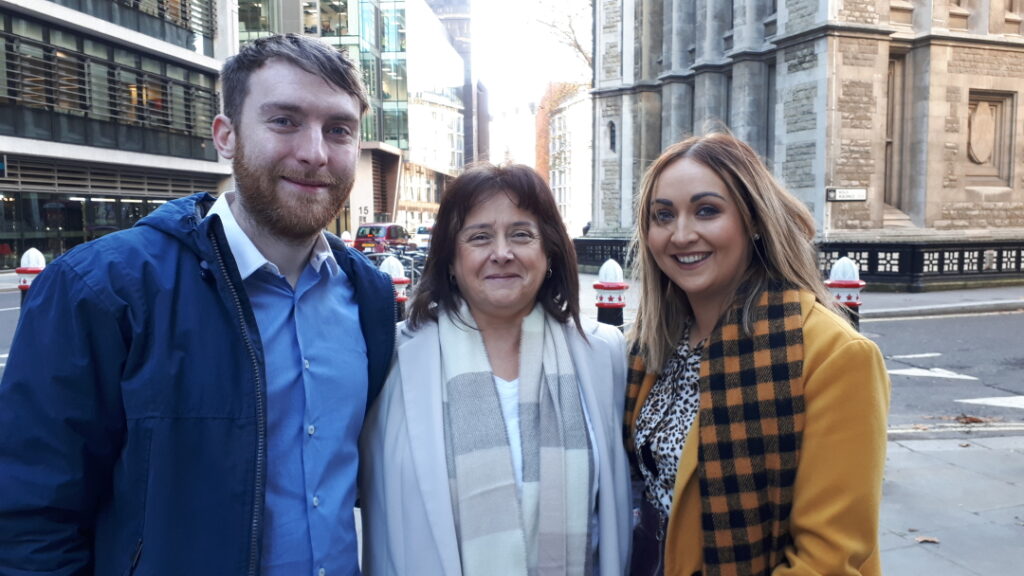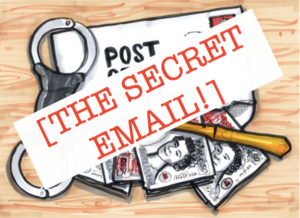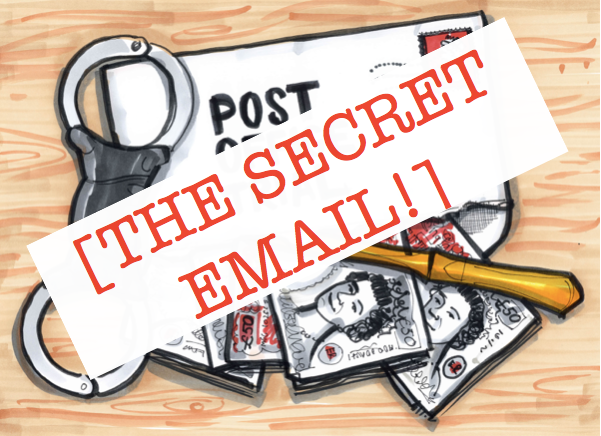 Not going to lie, secret emailers, the (civil) trial of the century went through a sticky patch yesterday. Afterwards the lawyers had broad grins on their faces as they challenged me to make something of the four and a half hours of legal argument I had just experienced
The only things I remember are:
a discussion on whether good faith and bad faith can be fitted into a scale if honesty and dishonesty are at either extreme of it (Mr Justice Fraser wondered aloud if a Venn diagram might be more appropriate).
Mr Justice Fraser asking "Are we going to go and crush some cars?" in reference to some case law involving a company called Globe Motors.
an interminable circular legal argument which Mr Justice Fraser seemed to try to halt by suggesting "It's like playing snakes and ladders."
That, honestly is it.
I felt so sorry for Deirdre Connolly and her family (above – with dad Darius missing on a caffeine mission to Pret) who who have flown over from Northern Ireland to be in court. Deirdre is a claimant and has very kindly told me her story. I hope to write it up for this blog when the trial is over. I have mentioned before the value to bearing witness, and I think Deirdre believes the same thing. Claimants turning up in numbers and showing the judge that this matters to them imbues a trial with a meaning that would be absent if they weren't present. Deirdre and her clan stuck it out yesterday and today they're back for more. Stamina.
The Only Ones
Deirdre wasn't the only claimant in the courtroom yesterday – Jo Hamilton was there as was the partner of a claimant whose husband was sent to prison. We had a chat over lunch – she found out they weren't the only Subpostmasters with Horizon problems after watching the Panorama in 2015. It's amazing how isolated some Subpostmasters can be, despite the fact that the husband of the lady I was speaking to yesterday had a Post Office in a big city.
In fact, it did make me wonder why Mr Green decided not to ask the auditors and contract advisors who took the stand over the course of the trial whether they had ever told any Subpostmaster having problems with Horizon that they were the only ones. Many Subpostmasters allege this happened to them and there was at least one Post Office witness who is alleged to have said as much to two Subpostmasters I know. I think it's a very important detail as it is a cynical (not to say mendacious) tactic which serves to isolate a Subpostmaster and make them doubt themselves. Here was a gilt-edged opportunity (possibly the only one which will ever exist) to find out what a Post Office contract advisor or auditor might say on oath about the matter, and it was inexplicably passed up.
Good luck with that
Chatting to former Subpostmasters over lunch was by far the best thing about yesterday – I think my tweets from court were so boring I couldn't get the Thread Reader app to unroll them. If I get time I'll try to do that over lunch today.
As I walked out of court yesterday at 4pm, I had a chat with the ebullient and surprisingly open Patrick Green, the QC who had just spent four and a half hours on his feet sparring with the judge (sample quote: "precisely.") over esoteric definitions, classifications and meanings within and between existing case law.
I asked him if Tuesday was going to be a little less hard going for the bewildered layperson. He indicated it might be. I asked him what he had achieved in his four and a half hours. He told me that he thought they had confirmed beyond all doubt that the legal concept of relational contracts are very relevant to the Subpostmaster/Post Office relationship.
"But isn't Mr Cavender [the Post Office's QC] going to go back to first principles and say your arguments on relational contracts are irrelevant?"
"Yeah." said Mr Green with a grin "Good luck with that!"
Whilst I could not really understand much of the conversation between the judge and Mr Green yesterday, I did enjoy reading and tweeting Mr Green's closing submission. It's very clear and so far I haven't seen anything that has slapped me in the face and said "HOW DID YOU MISS THIS YOU IDIOT?!!!"
There's still time. I'm in court with 7 mins to go before we rise for the judge. Live tweeting here.
Have a good day. It's got a very good chance of being better than mine.