Claims "nothing further" it can do
Hi everyone
Before we get down to business, I'd like to start with a thank you to the several dozen new subscribers who have joined the secret emailers over the last few days. Thank you for buying a book through Bath Publishing, and welcome along.
Putting together this newsletter is one of the most enjoyable parts of my job, as I feel I am writing for a motivated bunch who often bring new insight, information and expertise to my understanding of this multi-faceted scandal.
If there's ever anything you want to comment on or tell me, just hit reply to this email. All communications are private and treated as confidential as a matter of course.
If you know anyone who has bought the book via another outlet who might want to be part of this newsletter, just ask them to get in touch with me and I'll add them in.
Although this is a deadly serious story, I try to keep the tone of these newsletters light, and sometimes it's possible to have some fun, as the various photos of The Great Post Office Scandal you've sent me in recent days has shown.
See below for the latest crop – the best of the latest bunch has to be our first Santa of the season, played by Noel Thomas, who features in the book, and whose conviction was quashed earlier this year. I love Noel to bits, and I am very much hoping to be able to go to Anglesey and do a reading event in the New Year.
If you have any comments, or want to send in a photo of the book (and maybe you) in an unusual location (and don't mind me sharing it online), again just hit reply. Or post a shot on social media yourself, tagging me in so I see it.
To business
Paul Scully's vague noises over the summer and autumn about giving the 555 civil litigants proper compensation for what they suffered appears to have evaporated. I've written this up for my postofficescandal.uk blog here.
The impressive David Enright from Howe and Co, who acts for 150 former Subpostmasters, immediately went on the front foot, stating that the latest claim from the government (particularly the line that "there is nothing further the department [BEIS] can do at this time") was just "not true". I have transcribed Mr Enright's explanation as to why in my blog post.
If you prefer seeing Mr Enright say it himself, as part of a long discussion about the scandal on GB News, click here. The discussion starts at 2h13m into this youtube segment. Other contributors were former Subpostmasters Chris Head and Janet Bradbury and Lord Arbuthnot. I sat in the studio hopefully offering some insight. My thanks to Chris Head for helping me find the programme clip as I couldn't at first!
Subpostmaster spreadsheet
Thanks so much to every former Subpostmaster who has indicated they don't mind being directly contacted by the media, academics or other interested parties to take part in debates, seminars etc.
Janet Bradbury's appearance on GB News was a direct result of that. If you missed my recent email about this, I asked if there were any former (or serving) Subpostmasters willing to speak to the media etc about their experiences at the hands of the Post Office, who wouldn't mind me passing their details directly onto journalists etc who approach me with inquiries.
Whilst the media are of course most interested in those who have been prosecuted and convicted (and those Postmasters who have had their convictions quashed), there are still hundreds who lost their livelihoods, and thousands who have paid serious sums of money to the Post Office under threat of losing their livelihoods who have still not received anything like the compensation they are due. These situations need highlighting too.
For my part I will impress onto the journalists I speak to the need to deal with people with professionalism, sensitivity and respect. Unfortunately this doesn't always happen. In fact, the first organisation I referred Janet to asked if I knew a Subpostmaster who might go on the radio. I suggested Janet and they let her down, not just by not putting her on, but by saying that they would, then that they might, and then not even bothering to call her to tell her they wouldn't. Grr.
Most journalists have more courtesy than that and I am reasonably sure the good ones outweigh the bad. If you don't mind speaking on the media or to other bodies about your experiences (I understand even the CCRC are looking to convene a panel of Subpostmasters to learn from their experiences of what it was like to go through the CCRC's processes), then please get in touch.
The Horizon Scandal Fund
Work is continuing to turn the Horizon Scandal Fund into the organisation we want it to be – a charity disbursing grants to those who need them. We already have some limited funds (donations from kind individuals) and at the end of December we should have our first tranche of money from the first few weeks of book sales, which means we might be in a position to disburse our first grants early in the New Year.
At the moment the only trustees are me and Mrs Wallis and David Chaplin and Helen Lacey from Bath Publishing. We are looking to bring more representative people on board with various skillsets, and I am delighted to say we have an in-principle agreement from a former Postmaster who has a lot of experience dealing with the various horrors the Post Office has visited (or might be continuing to visit) on Subpostmasters.
Please do have a look at the Horizon Scandal Fund website, and if you would like to donate, please do so. If you would like to apply for a grant or know someone who might, please go to the Apply for Support page, and let us know the sort of thing you are looking for. All applications are, of course, treated in the strictest confidence.
We are not here to provide compensation, but we can provide grants for legal advice, forensic accountants, therapy/counselling, social occasions with other Subpostmasters and/or basic hardships.
We are currently not a rich fund, but if we get some kind donors and the book does well – who knows what we might be able to do!
Waterstones etc
Speaking of book sales, we are doing everything we can to persuade Waterstones to start stocking the book in numbers. Being a hitherto niche publisher, Bath Publishing doesn't have the relationships with the top buyers at Waterstones, none of whom seem to have heard of the scandal, or think it interesting enough to stock a book about it, despite it featuring in the Sunday Times, being serialised in the Daily Mail and being about one of the biggest miscarriages of justice in history.
That is, of course, their prerogative, but if you know anyone high up at Waterstones, do tip them the wink. If you happen to be passing a Waterstones, do ask them to stock it – apparently that can make a difference, too.
Amazon is another matter – they've (finally) clocked the demand and ordered 1,800 copies. Unfortunately, because they under-ordered first time round, they are still fulfilling pre-publication sale orders and have not made the book available through Amazon Prime. At the moment if you go on Amazon, the books are being sold by an Amazon partner called Great Reads who are a) reliable and b) getting their stock direct from the publisher, but we are hoping it won't be long before Amazon are doing next day delivery.
If you are still waiting for a pre-sale copy from Amazon, that is unacceptable. Please get in contact with me and I will do what I can to help.
Some books are finding their way into independent bookstores, and I am delighted to say they are selling well. I am grateful to those independent bookstores who have gone for it and committed to an order, and I am also grateful to those of you who think strongly enough that this story should be out there for going into bookshops and suggesting they sell it. Judging by the reviews on Amazon, people (even those I don't know!) think The Great Post Office Scandal is a good book.
Right, that's quite enough from me. I'll leave you with:
Photo gallery #3
… do please keep sending them in!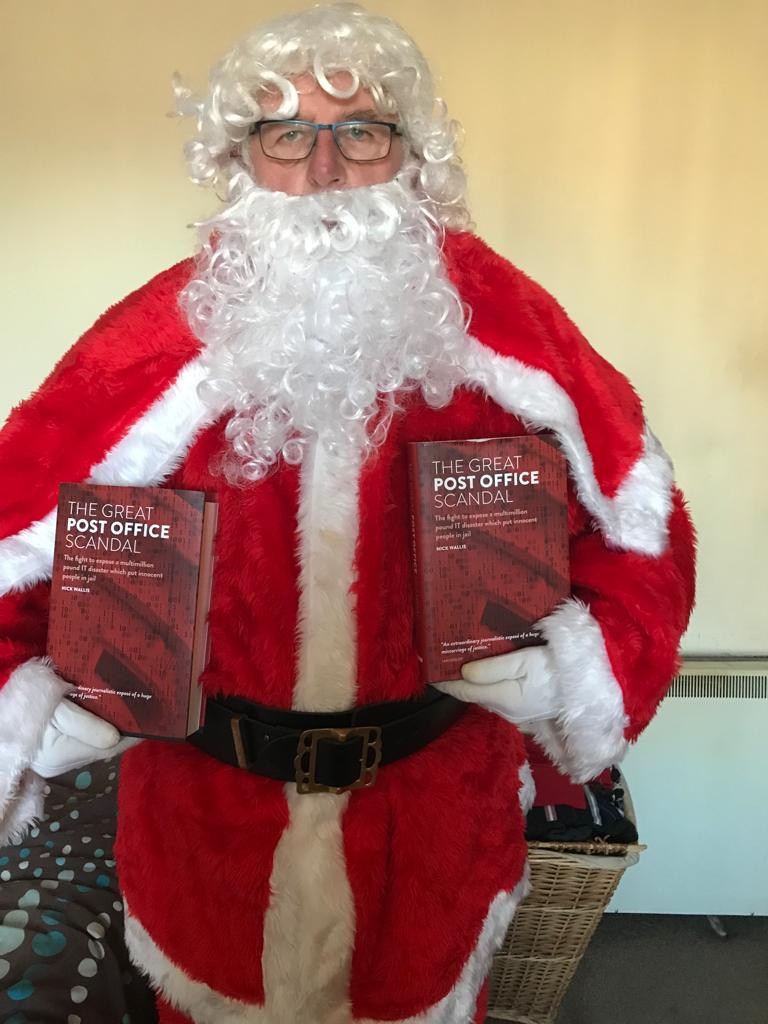 Noel dresses up as Santa at the Garden Centre where he works every year in order to spread some Christmas cheer. My thanks to him for this wonderful photo.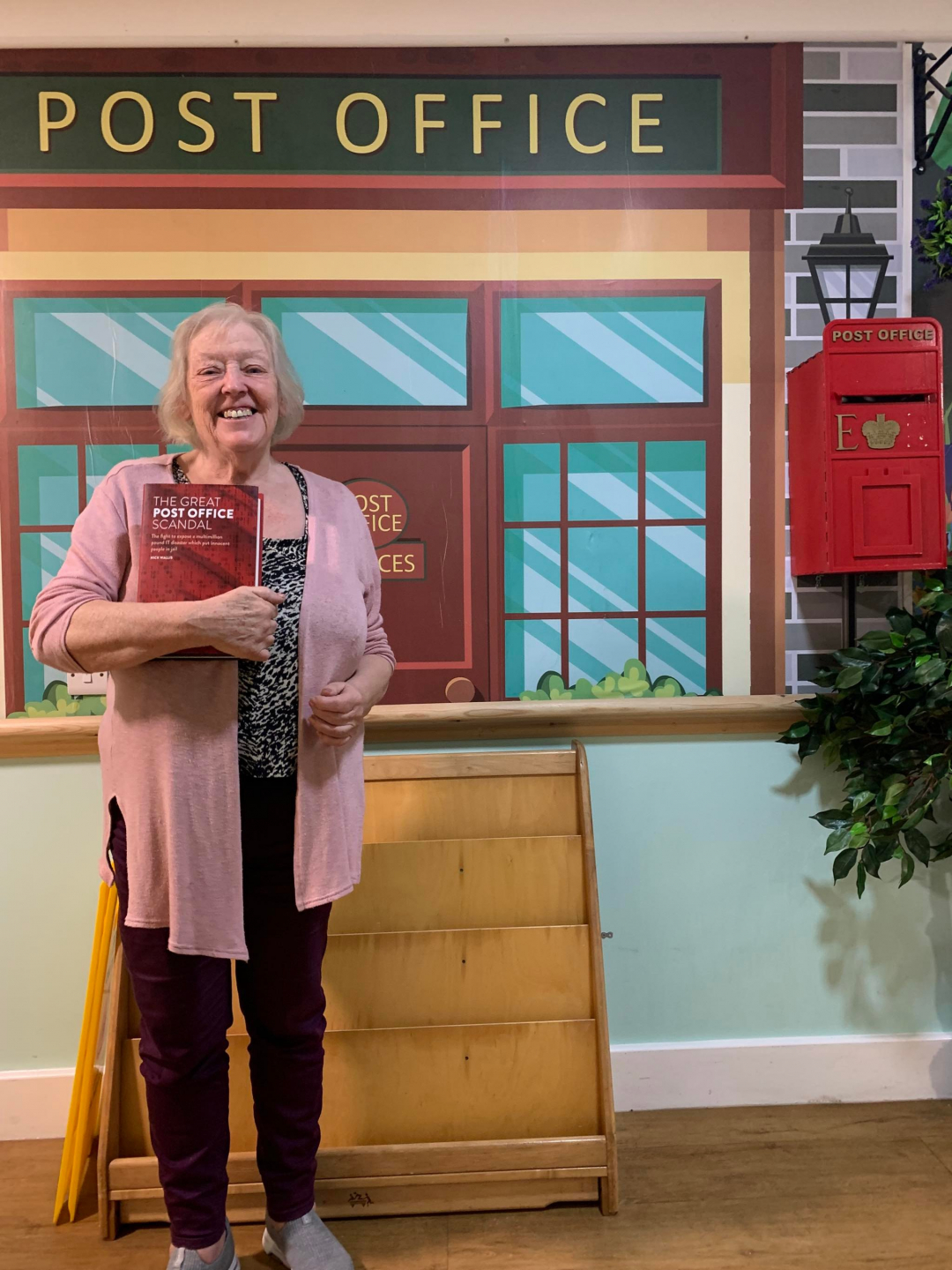 Ian Warren writes: "Here's my partner… Val – my rock throughout all the dark days."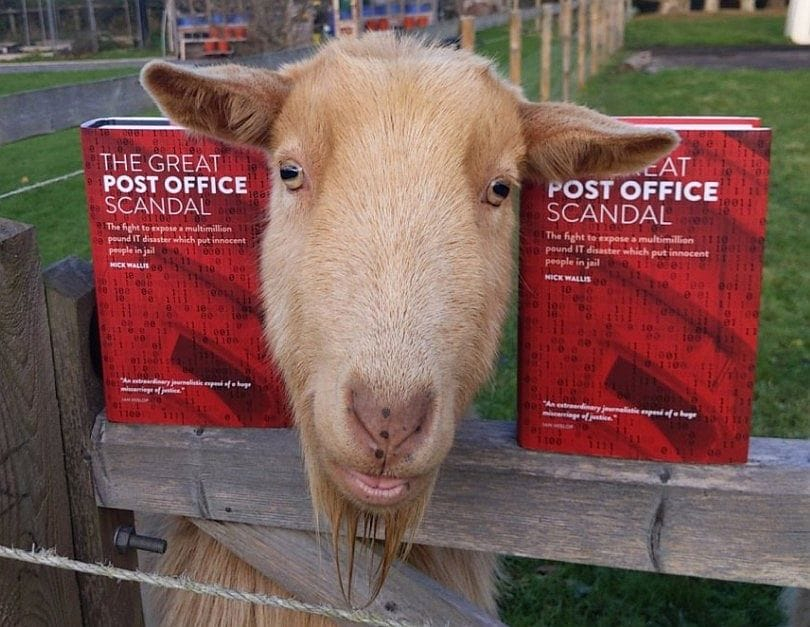 Ian Henderson's goat Paula apparently approves.
Keen hill walker Abigail Uden is catching up under the last rays of the sun.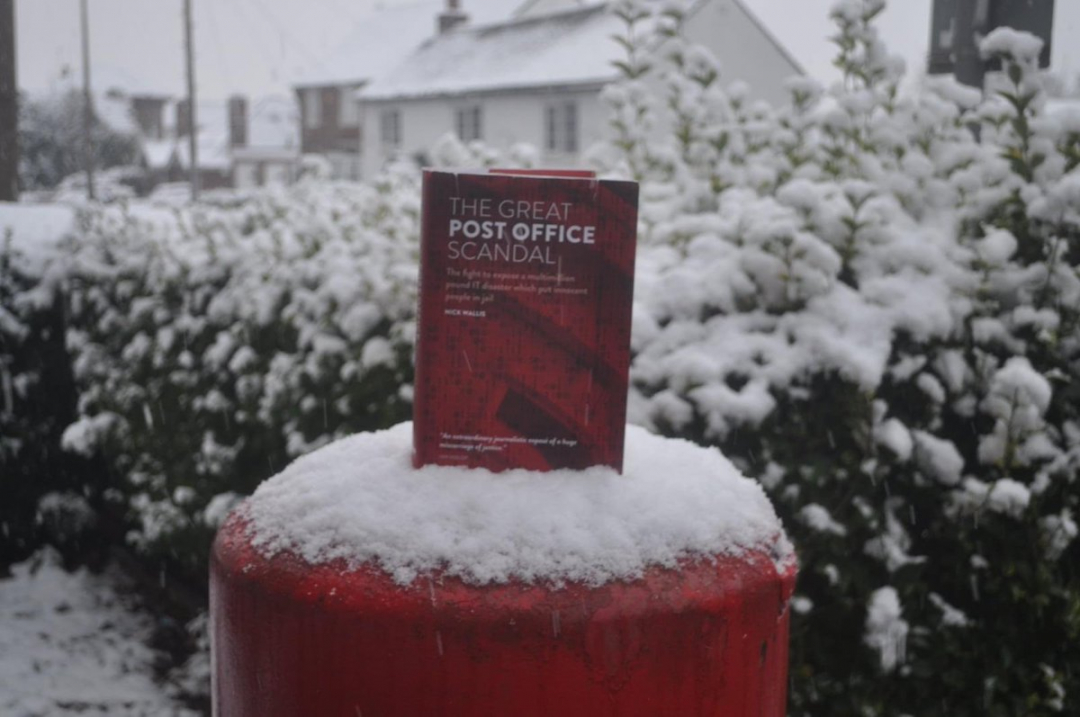 It's beginning to look a lot like…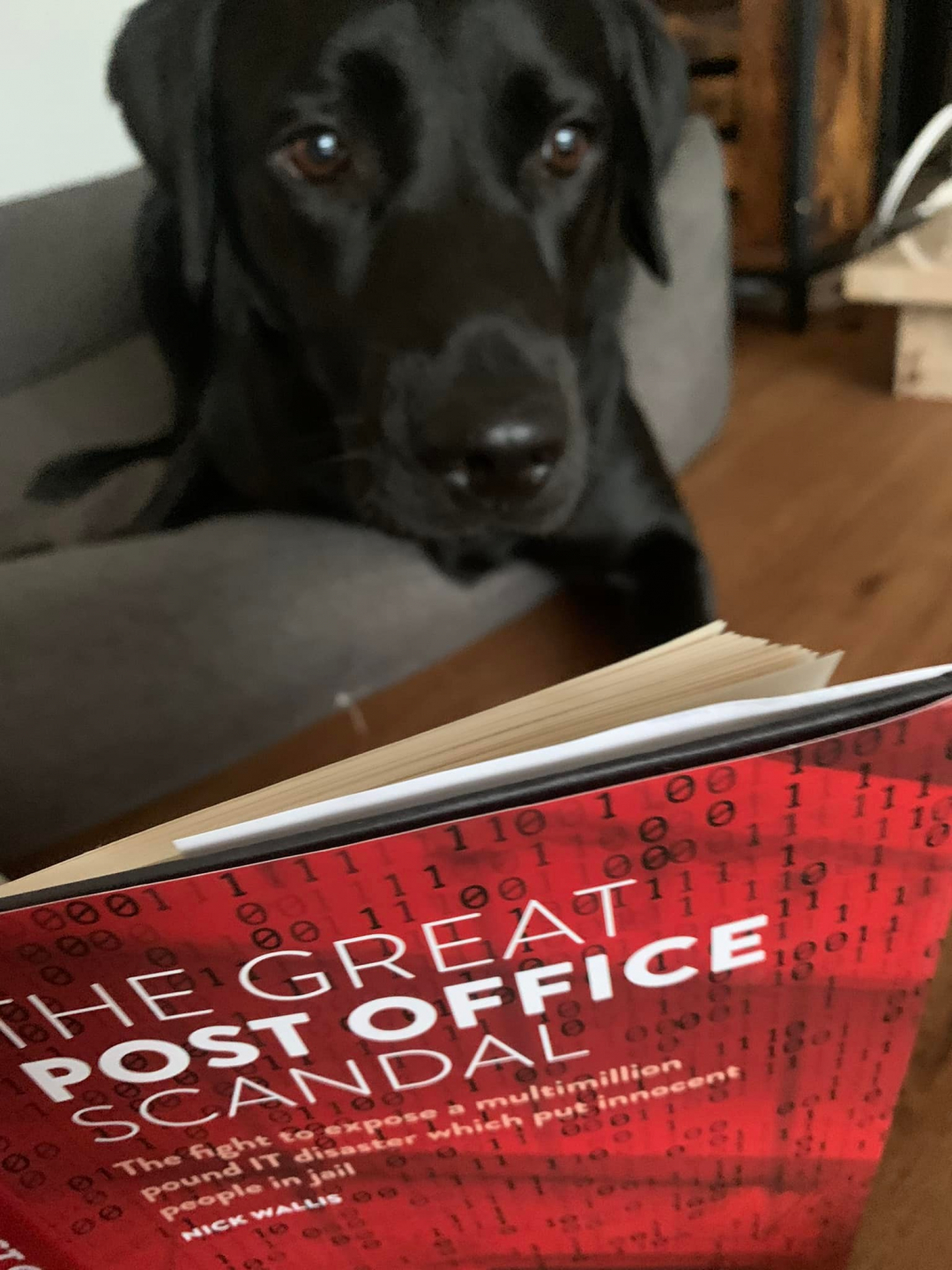 Anna Simms' beautiful hound is engrossed.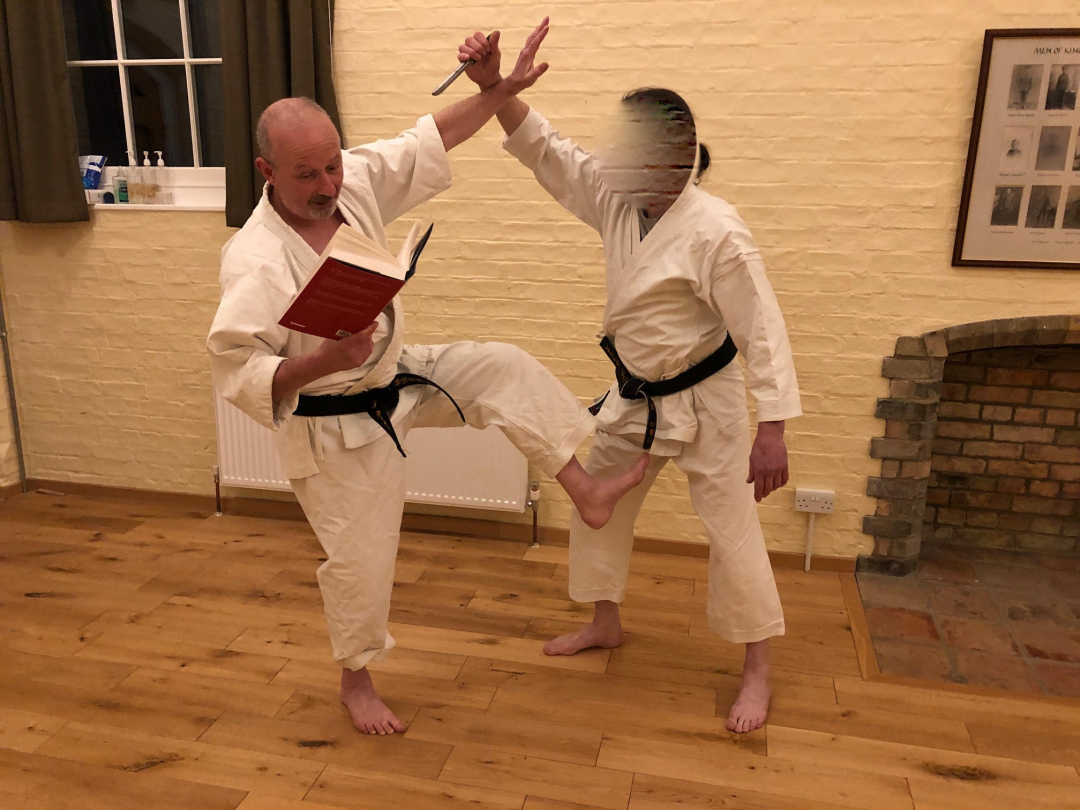 Malcolm Howlett writes: "As requested, a photo of someone (me in this case) attempting to read your book… If you could blur out the face of my friend coming at me with the plastic knife, that might also be good."
Thanks Malcolm – done. Though I think I'm now going to have nightmares about blurry-face man…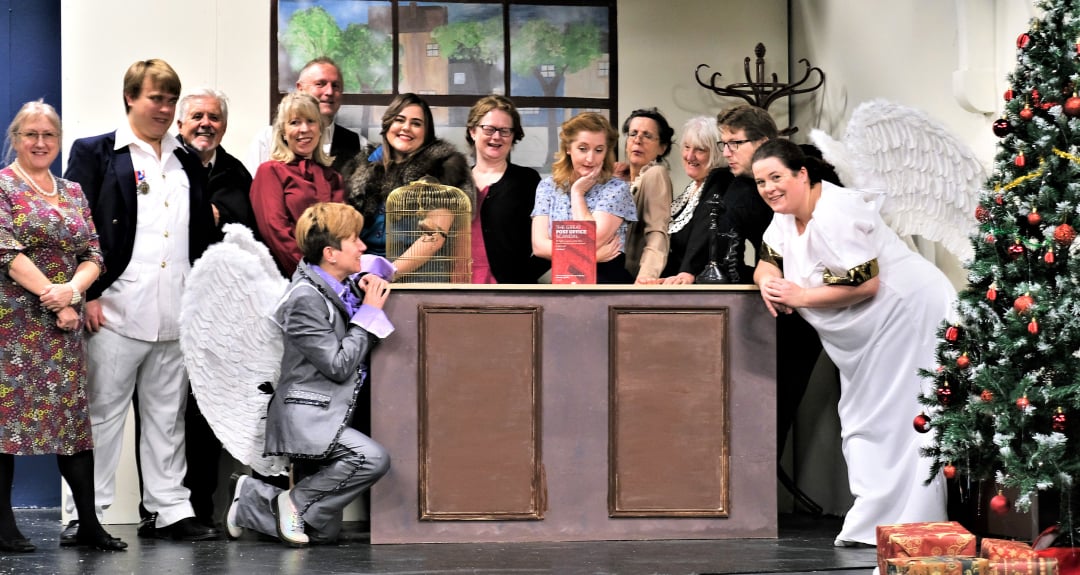 Finally – my thanks to Helen Quigley (centre) and the cast of Chelmsford Theatre Workshop pondering the meaning of The Great Post Office Trial at the Old Court Theatre in Chelmsford as they prepare their latest production, a stage version of Frank Capra's It's a Wonderful Life. If you'd like to see the play (sans book prop), it's on Wed – Sat this week! Book here.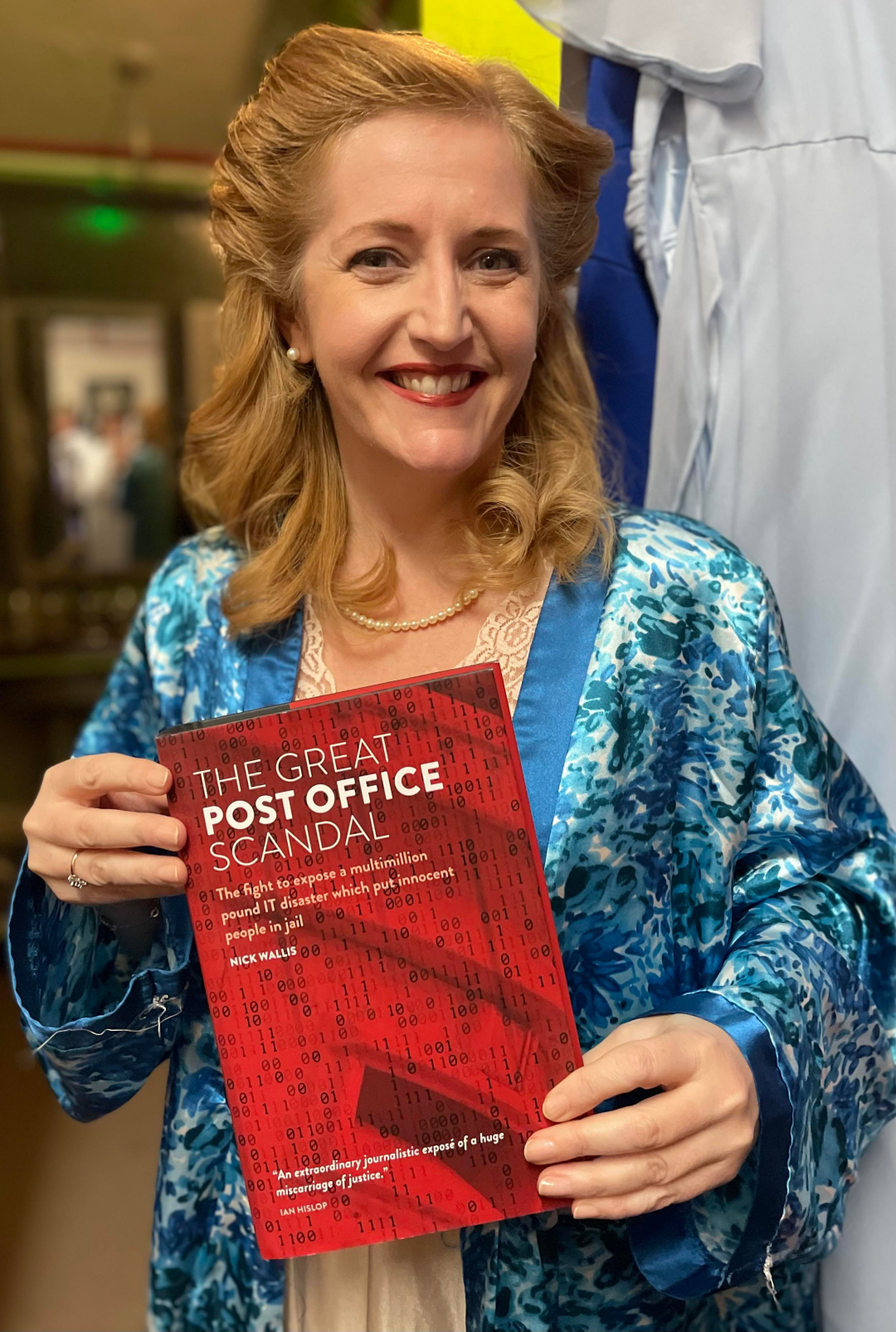 That's all folks! Thanks for reading this email.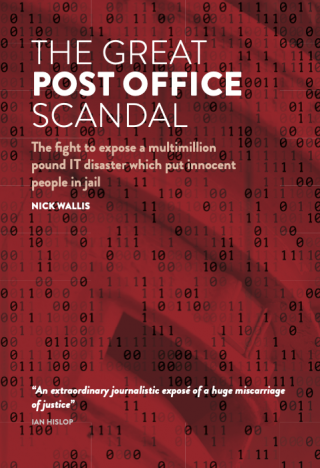 The Post Office Horizon scandal is available for £25 as a hardback and £8.99 for an ebook (or £30 for both) from Bath Publishing. Please click here to buy it. Alternatively, please do forward this email to a friend. Everyone who buys a copy of the book through Bath Publishing will automatically be invited to join the "secret" email list.