JFSA will now co-operate with Sir Wyn
These late Friday afternoon developments are quite something, aren't they?
Last week I told you Alan Bates had dramatically removed the JFSA from the Post Office Horizon IT inquiry. Now he's back in, sort of. Read why here. Had Bates not held out so single-mindedly for the one thing that matters to him – redress – it is questionable as to whether the clarification sent to him by Sir Wyn Williams would have been made. That clarification makes explicit that the Inquiry will consider the compensation received by the 555 civil litigants. Victory for Bates once more.
ITV News
On Tuesday, ITV News broadcast a short but powerful piece on the wait for compensation by so many Post Office victims. It starts with Marion Holmes, widow of Peter Holmes, who simply states:
"I don't think I will forgive the Post Office for what they've done. I certainly won't forget it. Because it ruined our life."
Peter featured in our 2015 BBC Inside Out piece and was a stalwart of the Justice for Subpostmasters Alliance. Marion carried on the fight after he died and she was there on 23 April to see his conviction being quashed.
The other people to feature in the report are David Enright from Howe and Co – who up until last Friday was representing the JFSA at the Statutory Inquiry, and a lady called Sue Palmer, who I have never met before. Sue, like Nicki Arch, was accused of theft by the Post Office, successfully maintained her innocence, and because she was not convicted, her path to compensation is harder. "I've lost my home of 22 years, my business," she told John Ray. "It just hurts. It hurts every time I mention it."
Seminar on a scandal
Patrick Green QC will be speaking at an event hosted by the Royal Society for the Arts on Wed 1 December at 6pm.
Patrick led the team from Henderson Chambers who worked on the Bates v Post Office civil litigation. I have interviewed him twice, once for my book and once for Panorama. What he has to say about the case is fascinating and you are warmly invited to hear him in full flow. Click here – it's free.
I think my book is the "peg" for this event, so I am going to read a couple of short passages and explain the mechanics of investigating a story like this. I am delighted to say Ian Fraser will also be joining us.
Ian Fraser is a financial journalist who I have known for some time. I presented a BBC South investigation in 2014 about some of the questionable goings on at Halifax Bank of Scotland before the financial crash and interviewed Ian for that piece. Ian wrote the book "Shredded" about the collapse of RBS, and there is very little he doesn't know about corporate impropriety. I can't wait to hear his thoughts on the Post Office. My thanks to Ann Packard at the RSA for putting all this together.
Other things
The barrister Paul Marshall has appeared on the Irish podcast "Law on Trial", being interviewed about his work at the Court of Appeal, representing Seema Misra, Janet Skinner and Tracy Felstead and the wider Post Office Scandal. You can listen to it here.
Mr Marshall has been working with IT testing consultant James Christie, another barrister called Stephen Mason and various other experts to update their thoughts on the "Probity of Computer Evidence" in Mr Mason's journal Digital Evidence and Electronic Signature Law Review. Despite the academic-sounding title it is a very clear read and highly recommended.
In Computer Weekly-world Karl Flinders has picked up on an FOI request made by Professor Steven Murdoch which reveals the Post Office was campaigning to have the law changed over computer evidence back in 1995. Proving IT evidence was reliable was becoming, in the Post Office's words "somewhat onerous". This lobbying led, in part, to the Law Commission's disastrous 1999 legal presumption which stated "in the absence of evidence to the contrary, the courts will presume that mechanical instruments were in order at the material time."
This effectively reversed the burden of proof. In future, defendents would have to persuade a court the IT evidence being used to prosecute them was faulty, not the other way round. We all know how that ended. The presumption has not yet been removed.
Books-2-u
I am heartened to hear (and see) book orders which were made way back in the mists of time via crowdfunding, and subsequent orders direct from the publishers are finally starting to materialise on peoples' doorsteps. I am not going to say much more about Amazon and Waterstones, other than both seem to be saying they can't ship any orders at the moment, which is infuriating. That said – because the kindle version is available – Amazon is still accepting reviews. There are more hoops to jump through if you don't have an Amazon login, but if you do, posting up a review is easy. Please consider doing so, if you can.
Finally, I have been delighted to receive more entries for the rogues' gallery, including what seems to be a Duplo-based interpretation of a Royal Mail van crashing into a giant copy of The Great Post Office Scandal, with people fleeing in all directions. And that's not even the best one. I'll leave you with them below – do please keep them coming as your books arrive (providing you don't mind me sharing them online) and don't forget to sign up to the RSA seminar on Wed 1 Dec at 6pm. It's completely free, and it would be great to hear from anyone who has any questions about the matters under discussion.
Have a relaxing weekend.
Nick
The great matchbox Duplo P-line disaster: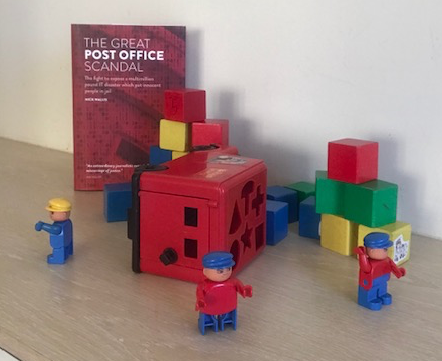 Second Sight's Ron Warmington taking his book for a spin at the Bentley Museum: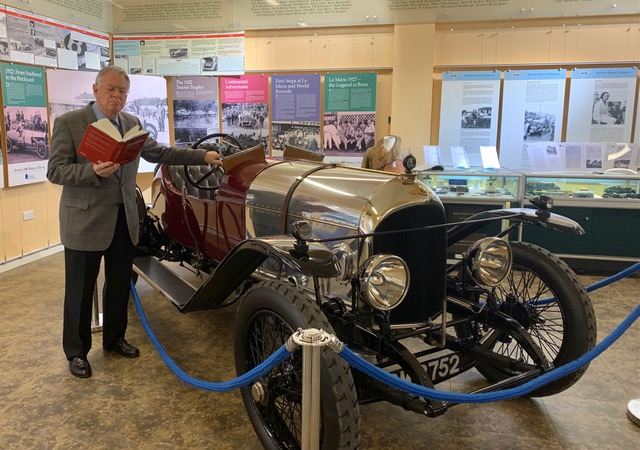 Helen Walker, a post and a peafowl: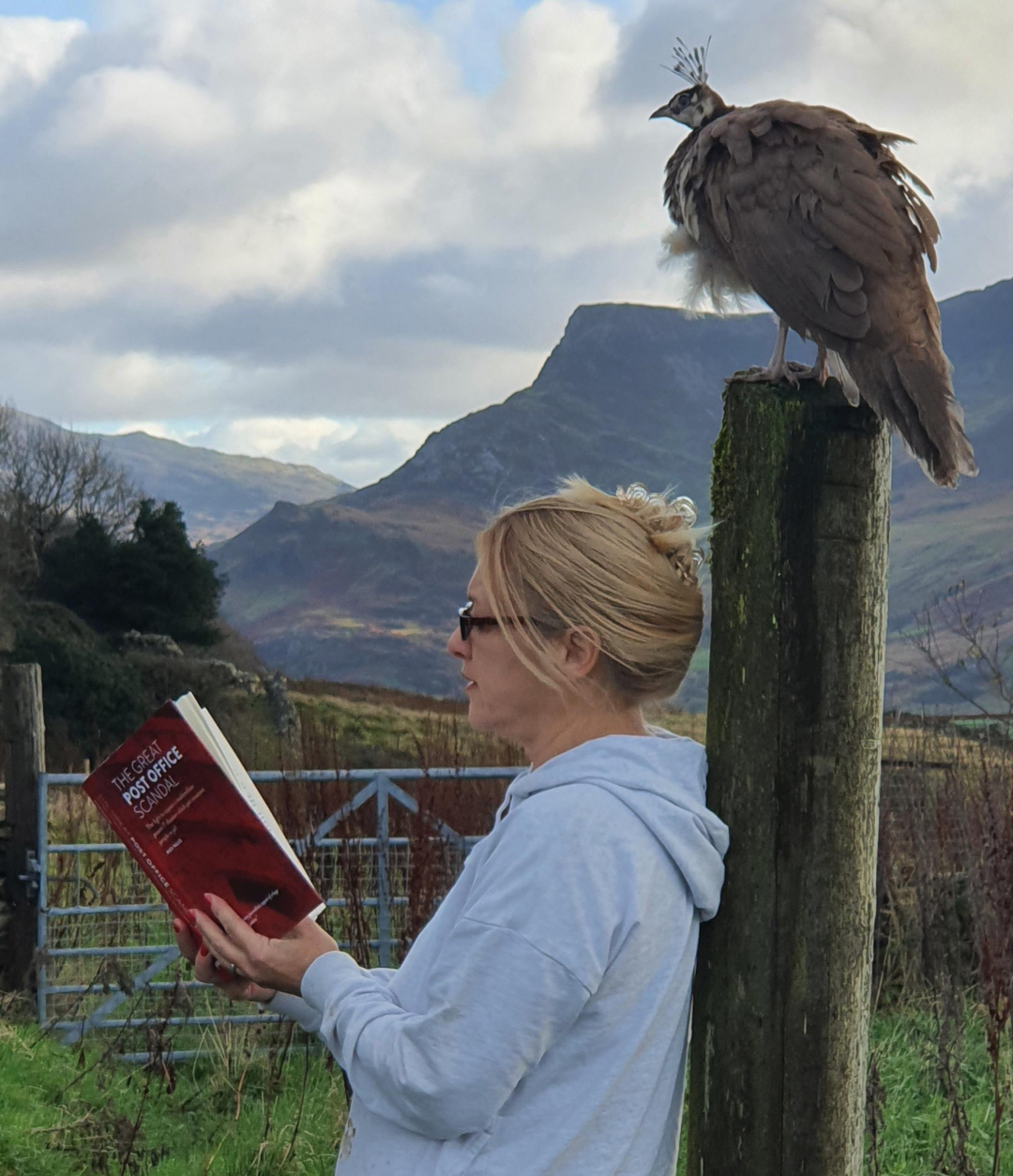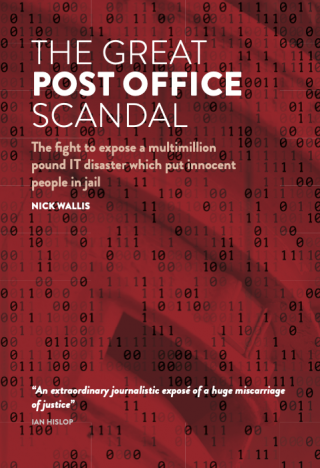 The Post Office Horizon scandal is available for £25 as a hardback and £8.99 for an ebook (or £30 for both) from Bath Publishing. Please click here to buy it. Alternatively, please do forward this email to a friend. Everyone who buys a copy of the book through Bath Publishing will automatically be invited to join the "secret" email list.