Inquiry opens to growing public anger
Hello there
It's hard to overstate the significance of the last six days. The Post Office scandal now, finally, has the same level of public awareness as the infected blood scandal, Windrush and/or the Mid-Staffordshire NHS hospital scandal.
I knew Monday was going to be a big media occasion when four different BBC outlets asked me to do something around the start of the inquiry. Sitting at in the hearing room alongside big hitting correspondents from Sky, the Daily Mail and the BBC was quite something. I ended up doing sixteen broadcast interviews across the course of the day and had to turn down many more.
The evidence which has poured out over the first five days of the inquiry has been both harrowing and heart-breaking – variations on themes we have heard from dozens of Subpostmasters over the last decade. Their stories have been diligently reported by various outlets including Computer Weekly, the BBC and the Daily Mail. You can also watch them all in real time on the Inquiry's youtube channel.
On Tuesday, the story finally reached the front page of the Daily Mail, as a main headline. Tom Witherow had a major and serious scoop on his hands – 33 former Postmasters or managers/assistants have died since applying for compensation through the Historical Shortfall Scheme.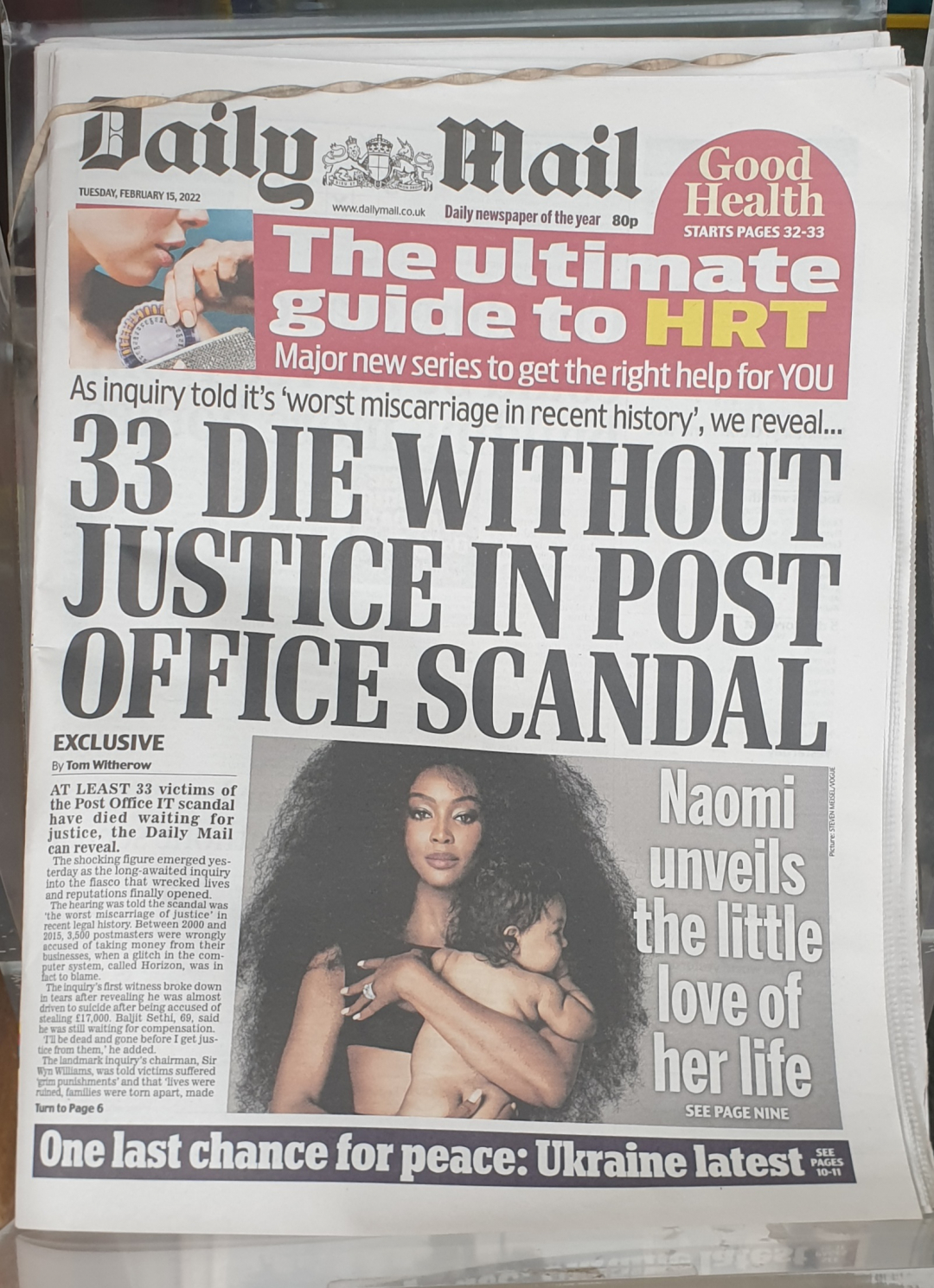 Delay is a weapon lawyers and civil servants can deploy to make things easier for them and more agonising for those waiting for justice. Dead people don't need compensation. Assuming the Post Office is not deliberately slowing the process down in the hope it will end up being cheaper to do so, it remains unconscionable that:
a) so many people are still waiting to have their HSS applications properly assessed and
b) 33 people have already died whilst waiting.
As ever, no one will be held responsible for this delay, which just so happens to work in the Post Office and government's favour.
Incidentally, in January, someone close to the process suggested I ask the Post Office how much money the Historical Shortfall Scheme had spent on lawyers compared to the amount of compensation it had handed out, hinting I might be shocked by the answer. That question went in to the Post Office as a Freedom Of Information request shortly afterwards. I have yet to receive a response.
BEIS select committee report
On Wednesday the BEIS select committee produced its report into the compensation available to Subpostmasters. It expressed concern that:
a) the Post Office was in charge of the Historical Shortfall Scheme and not an independent body
b) the legal firm Herbert Smith Freehills (HSF) were involved in running the HSS, given their involvement in a similar scheme for victims of the HBOS banking fraud scandal which was later found to be "unfair".
The committee were surprised that the CEO of the Post Office, Nick Read, did not know that HSF was involved in the HBOS scheme, and criticised him for his lack of awareness.
The report also called for the 555 Subpostmasters trapped in the settlement to the civil litigation to be properly compensated, explaining it was perfectly simple for the government to start that process, and that it should do so without delay.
It's a straightforward, 37-page read. I recommend giving it half an hour of your time.
Piecing it all together
On Friday, after the first week of the inquiry had concluded, Tom Witherow noted on twitter that:
"Every Post Office Inquiry victim has said they want the hearings to hold people to account", and so he proposed to collate names of Post Office employees mentioned at the inquiry, and the claims made against them.
"As they come up," wrote Tom "or if I've missed any, let me know and I'll add them."
He then proceeded to list the information he had picked up from the evidence so far. You can read it here.
I think this is an excellent project, and one I hope I can help with. As you can imagine, from my research for the book, and in the documentation and interviews I have done over the years, I am been given lots of names of individuals at the Post Office.
They went from board members or senior management to lower-grade types – the ones involved in the auditing, suspending, sacking and prosecuting of Subpostmasters over a two decade period.
I think Tom is absolutely right – we need to start building a list, and my preference is to widen it out from the inquiry. Don't forget, when the issue of accountability was raised in 2020, the government said:
"given the major programme of work the Post Office is implementing, the Government will not be taking further action at this time. The Horizon IT system was put in place in 1999, with the first issues being raised by postmasters in the early 2000s. Over an almost 20-year period decisions were made by many people, including in relation to the prosecution of postmasters. There is therefore no single person accountable for what has taken place."
This, as I said in my book, is not good enough. Whilst I am sure the inquiry will be reasonably thorough and whilst I have no desire to start any kind of witch hunt, I think a published list, perhaps relating to some kind of database, containing as many names, dates, departments, job roles and known/alleged actions/statements as possible may prove useful.
To that end, if you have a specific person at the Post Office, Fujitsu, the NFSP or within government you wish to draw my attention to, please reply to this email with their name and as much information as you can supply about them (including documents, if at all possible). This could turn out to be a big project, but it could help in getting some kind of accountability.
The Manchester Innocence Project launch
I was asked to speak on Thursday at the launch of the Manchester Innocence Project at Manchester University. I was delighted two former Postmasters, Pete Murray and Tom Hedges agreed to come along to speak about their experiences. Dr Claire McGourlay hosted the evening, and we were treated to a wonderful, passionate introduction from Lemn Sissay OBE, poet, author and Chancellor of the University.
I was personally thrilled to see that among the people who came along (including many earnest and polite students), were former Postmaster Ian Straughan and Gina Griffiths, Martin's widow. We had a good chat afterwards. It was also the first time Pete Murray and Gina had met. Pete took over Martin's Post Office without anyone from the Post Office telling him what had happened at the branch. Resisting every journalistic impulse in my body I left them alone to chat and didn't ask to take any photos. What they discussed is private to them.
Many years ago I spoke to Matt Griffiths about what happened to his dad. Matt very kindly gave me permission to use that conversation in my book. On Tuesday Matt's first ever broadcast interview appeared on a File on 4 investigation into the Post Office scandal. It is a deeply affecting listen.
Correspondence
I am very sorry if you have sent me an email or message and not received a response. I have received several hundred this week on a variety of platforms and have had very little time to try to read them, let alone reply. I will be trying to go through some of the backlog next week. I do (eventually) read everything I get sent, even if I am not in a position to write a reply. I remain deeply grateful to everyone for getting in touch.
I hope you enjoy what's left of the weekend. I have rather been neglecting my family duties in recent days, despite it being half term, so I am going to switch off all media for the rest of the day and attend to the various practical tasks lined up for me, whilst also trying to see something of Mrs Wallis and the kids!
Very best
Nick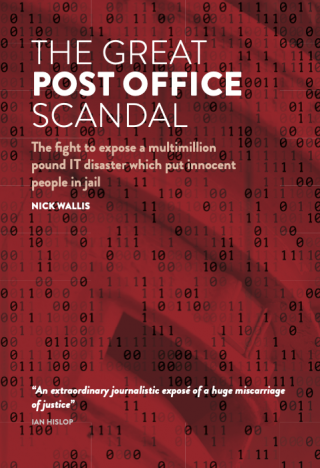 Please do forward this email to a friend. Everyone who buys a copy of the book through Bath Publishing (or donates via my tip jar) will automatically be invited to join the "secret" email list.
The Post Office Horizon scandal is available for £25 as a hardback and £8.99 for an ebook (or £30 for both) from Bath Publishing. Click here to buy it.
The audiobook version will hopefully be published soon.