Plus: another book talk postponement
Hi everyone
I was contacted today by several former Subpostmasters who were claimants in Bates v Post Office. It seems 400 civil litigants who don't have 'complex' cases have been apportioned the £19.5m set aside by the government as interim compensation, but 100 or so people, some of whom are insolvent or who have bankruptcies to deal with, have yet to receive a bean. (The remaining 55-odd don't currently qualify for the civil litigation interim compensation as they apparently have a case against the Post Office for malicious prosecution).
Some of the delay to the 100 is down to paperwork, but today Alan Bates, founder of the Justice for Subpostmasters Alliance wrote to the 60 or so claimants with 'complex' cases saying:
'despite the assurances given by the Minister to the House of Commons on 30 June 2022, that they planned to distribute funds within a few weeks of receiving your application, in many of your cases it has been over two months since you submitted your completed forms, and you have still not received anything and are having problems trying to find out what is happening.'
Bates add: 'I wrote to the Minister back in the middle of August because the stumbling block then, as it is now, is presently there is no money being made available by Government to sort out each of the complex claims like yours. This might even mean you may not receive any interim payment and may have to wait for your Stage 2 claim to be agreed and processed before receiving anything.' [my emphasis]
This news has understandably infuriated many people, one calling the government's position 'outrageous'.
In his circular, Bates says: 'I know most of you are in dire financial straits and desperately need your interim payment soonest and had been expecting it weeks ago in line with what the Minister had promised back in June. But as work has stopped on most of these cases it is not possible for anyone to say if, or when, you will receive anything.'
This is extremely worrying for the people concerned. I will try to find out more.
New podcast episode
An interview with Lee Castleton has just gone online. You can listen to it here. This was an interview Rebecca Thomson recorded before today's news dropped so it doesn't come up in their discussion. Lee is a great talker and his endless willingness to speak on, or off the record to journalists (in between his night shifts at work) has made him a visible figure in the Subpostmasters' campaign.
That willingness to make himself available to further the Subpostmasters' cause has taken its toll. In this wide-ranging interview Lee reflects on what has happened over the past two decades and what needs to happen now. Lee is directly affected by the latest delay to compensation payments. What has happened to Lee and his family is manifestly unjust and every day that goes by without him receiving proper restitution should be a stain on the Post Office, the government and the justice system's conscience.
Book talk date cancellations and postponement
We have unfortunately had to cancel Wednesday's talk in Sheringham, but Sudbury this Friday 16th September still goes ahead. Weirdly, this one is close to being a sell-out and I am delighted to say that former Postmaster Ian Warren (whose Post Office used to be in Castle Hedingham, fifteen minutes from Sudbury) will be on stage with me, explaining what happened to him. There are still a few tickets left, which you can buy here:
Please do share the link to anyone you think might be interested.
Norwich at the Playhouse on 19 September was shaping up to be another success, but as it is The Queen's funeral that day, the theatre felt it was best to postpone the talk to another date. All tickets for the 19th will remain valid for the new, yet to be confirmed, date at the Norwich Playhouse. Refunds will be offered for those who can't make it.
I have been asked whether Diss on the 17th September is on, but that was sadly cancelled a while back. All ticket-holders should have been informed.
Depp dive
Finally – I can officially let you know I am writing a book about my experiences of reporting Johnny Depp's legal travails. It was given space by The Bookseller on Friday. Not a great day to announce good news, but there you go.
God Save The King.
Nick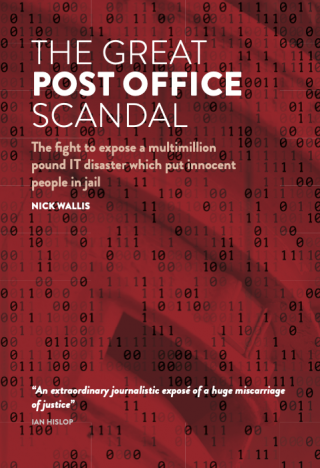 Please do forward this email to a friend. Everyone who buys a copy of the book through Bath Publishing will automatically be invited to join the "secret" email list.
The Post Office Horizon scandal is available as a hardback, ebook and audiobook. Click here to buy it. from Bath Publishing. Or here to find it on Amazon.