plus another conviction quashed…
Hi there
Apologies for the delay in getting this out to you. I was hosting a business conference in Liverpool yesterday, and whilst I had a good idea things were going to go crazy, I was only able to switch my phone on to check it sporadically.
The conference itself made for a very very long day and at the end I just didn't have the energy to dive into writing a post about the latest Postmaster compensation news. But now I have. It is here. I hope you find it useful.
Another conviction quashed
There is a Subpostmaster hearing going on at the Court of Appeal at the moment. There are three cases being heard, two appeals are contested, but one wasn't – that was Margaret White from Banbury in Oxfordshire. She had her conviction quashed yesterday and becomes the 73rd person to do so. Congratulations to her and her legal team. More here.
Casas – Liverpool – tomorrow!
Thanks to the two hundred people who came along to the event we held in Farncombe last week. I still haven't had the opportunity to process it properly or share any of the photos, but it was lively and worthwhile. I am deeply grateful to everyone who had a hand in organising the evening, took photos and who came along – thank you.
Tomorrow I will be at Casas on Hope Street in Liverpool at 7.30pm, doing more of the same. If you fancy it, please click on this link. Tickets are only £5/£3. You don't get a book or free drink this time – but both will be available for purchase!
Forgive the brief message, but I have not left my hotel room all day and it's lovely out. I am going to have a quick nose past one or two of my old student haunts before it gets dark.
Yours
Nick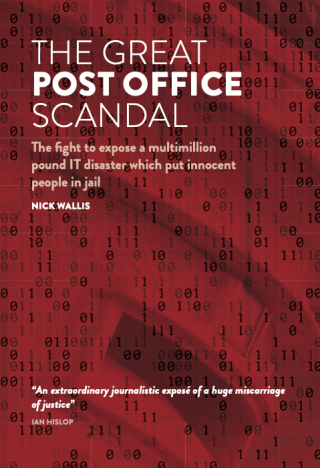 Please do forward this email to a friend. Everyone who buys a copy of the book through Bath Publishing (or donates via my tip jar) will automatically be invited to join the "secret" email list.
The Post Office Horizon scandal is available for £25 as a hardback and £8.99 for an ebook (or £30 for both) from Bath Publishing. Click here to buy it.
The audiobook version will hopefully be published soon.