It's nice to be back
Hello!
Warm out, isn't it? This is just a very quick email to let you know that more dates have been added to the theatre talks I am doing on the Post Office scandal.
There are now five dates at the end of this month/early July in Shoreham, East Grinstead, Leatherhead, Bridgwater and Swindon, and then there are a lot in September.
I am delighted Sami Sabet, Seema Misra and Tim Brentnall (all Postmasters whose convictions have been quashed) and Ron Warmington (Second Sight investigator) will be joining me for one or more of the June/July dates. Click here to find out who will be where.
Incidentally, if you see a date near you and would like to come along and share a stage with me, please just hit reply to this email. Former Postmaster Tom Hedges has kindly volunteered to take care of the evenings up in Lincolnshire, for which I am very grateful, but there are plenty of other dates to look at.
Last week Issy Hogg, a criminal solicitor who featured in the recent Panorama, joined Vipin Patel's son Varchas and former Postmaster Pam Stubbs on stage in Hartley Wintney in Hampshire. It was a very powerful evening and I am grateful to them for coming together at such short notice (Issy didn't even know she was going to be on stage at the beginning of the evening!)
Some audiences for some of the events I have put on have been quite small so if you are able to spread the word about a talk which may be near you to your friends and colleagues I would be extremely grateful.
I am sorry all the dates are in England, and no further north than Skegness. If we can make the economics work (and we may have to wait until after the TV drama series comes out) we will definitely head into Wales, Scotland and Northern Ireland. There is much to be done!
Johnny who?
As you may know I have been out in the US for most of the last two months covering the Depp v Heard trial. I got back last Tuesday and spent last week fighting horrendous jet-lag, whilst trying to reconnect with everything that's been happening over here.
My brain fog didn't quite stop me going to Southwark Crown Court with Rebecca Thomson (the journalist who broke the Post Office story) to see two more Postmaster convictions quashed. Rebecca and I also discussed a plan to work together which we are very close to being able to announce.
Horizon scandal fund
Since I've been back we've also had a meeting of the Horizon Scandal Fund trustees. We are slowly inching towards becoming a registered charity. The onboarding process has now taken the best part of seven months, which seems ridiculous.
The delay is down to the Charity Commission and the hoops they are making us jump through. We are obviously complying with their wishes, but it is all just taking soooo loooong. The fund has nonetheless been taking donations and helping people since our launch in November last year.
One area it seems there is a demand for is trauma counselling. If you have been affected by the Post Office scandal or you know someone who has, the Horizon Scandal Fund can pay for an assessment and a course of counselling/therapy as required.
We can also provide grants for pretty much anything else. Although I don't make grant funding decisions, I would be quite happy to see requests to fund or part-fund a much-needed holiday or a social event. Please, if you can, spread the word about the fund and share the website address (www.horizonscandalfund.org) so people who want to can get in touch. All requests and correspondence will be kept absolutely confidential.
If you need any further incentive to start booking tickets for any of the upcoming talks – 10% of our proceeds will go into the fund to further help Subpostmasters, their families and anyone affected by the Horizon scandal.
Karl Flinders
Finally, I am delighted that the superb journalist Karl Flinders has been recognised for his work. Karl is a proper toiler who has documented each twist and turn of the Post Office scandal in the pages of Computer Weekly. This week he won the Journalist of the Year award at the Digital Publishing Awards. It is a richly deserved accolade and my congratulations to him.
Right that's it from me for now. Have a great weekend. I think the weather is going to get a bit more bearable on Saturday.
Best
Nick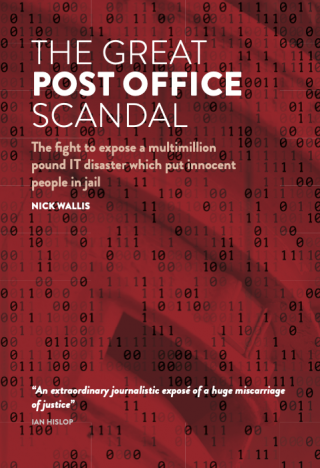 Please do forward this email to a friend. Everyone who buys a copy of the book through Bath Publishing (or donates via my tip jar) will automatically be invited to join the "secret" email list.
The Post Office Horizon scandal is available for £25 as a hardback and audiobook and £8.99 for an ebook from Bath Publishing. Click here to buy it.