Hi everyone
I am pleased to be able to announce the launch of "Investigating the Post Office scandal" – a podcast by Rebecca Thomson and me.
Rebecca will be known to you as the journalist who broke the story of the Post Office scandal after speaking to Lee Castleton, Alan Bates, Jo Hamilton and many other former Subpostmasters back in 2008/2009.
This podcast was her idea and I was thrilled when she approached me and suggested we make it.
Early days
With a combination of Rebecca's enthusiasm and my vague understanding of technical things, we are groping our way towards being able to deliver you interviews, content and updates based on our coverage of the story.
I am delighted that Whistledown Productions have very kindly allowed us to use their studios, pick their expert brains and generally sit in the background keeping an eye on what we're doing.
That means all the production and editorial mistakes are ours and ours alone. Rebecca and I are the sole arbiters of what goes in and out of the podcast. The level of technical skill we are bringing to this process is limited, but hopefully improving as we feel our way into it.
Getting the project off the ground has been more work than either of us expected, but we have at least made it to the point whereby we have been able to upload our first three episodes.
You can find them here:
https://audioboom.com/channels/5081946 (please share that link)
Episode 1 is an introduction to the podcast and the scandal itself.
Episode 2 features interviews with former Postmasters Gillian Harrison, who had just had her conviction quashed, and Neil Hudgell, who talked about the current direction of travel with regards to Postmaster compensation.
Episode 3 was recorded at The Oval cricket ground after Rebecca and I attended the first of two compensation hearings held by the statutory inquiry into the scandal. It features interviews with David Enright from Howe and Co and Kevin Brown, husband of former Subpostmaster Sharon who was one of the 555 group litigation claimants.
Give the podcasts a try, and let me know if you have any feedback or ideas. If you search for "Investigating the Post Office Scandal" on Spotify or Apple Music, you can follow the podcast and get each episode dropping into your phone or computer when it is released.
As with most podcasts, Investigating the Post Office Scandal is free at the point of consumption. Unfortunately it costs money to make. I suspect we will be unlikely get enough listens/downloads to cover our costs through advertising and so we may have to look at some kind of funding model in the future, either by teaming up with a media outlet, a sponsor or rattling the dreaded tip jar, but we're not going to start doing anything like that until we've got to a point where we know what we're doing and can actually deliver a consistent product on a regular (weekly?) basis.
The main joy of doing this project so far has been working with Rebecca, who is a diamond individual and journalistic hero of mine, for obvious reasons.
Compensation hearing day 2
The second compensation hearing, being held by the Post office Horizon inquiry, is this Wednesday, back at St Paul's.
The hearing will be carried live on the inquiry website, but Rebecca and I are intending to be there in person to witness the oral submissions from the lawyers and hoover up more interviews for the podcast.
Sale – Sunday 24 July
I am going to be presenting another live talk about the scandal at the Waterside Arts Centre in Sale, as part of the Refract Festival. There are only 65 seats available, so please do book now if you want join me and hear (at least one!) very special guest talk about how this horrendous affair affected them.
Shoreham, East Grinstead and Leatherhead
I am deeply grateful to everyone who turned out and everyone who participated in the shows we put on in Shoreham, East Grinstead and Leatherhead. I am very sorry we had to cancel Swindon and Bridgwater.
It is entirely possible we underestimated how many people had heard about the scandal (or who wished to come to a theatre to hear me talk about it).
Despite doing a lot of PR work in the South East, the number of people who came to each event was well below the break-even level, hence the decision to cancel Swindon and Bridgwater, and our judicious pruning of the events we are doing in the autumn.
The feedback we got from those who attended the Shoreham, East Grinstead and Leatherhead events we have completed was good, and it was such a delight to share a stage with Sami Sabet, Seema Misra, Davinder Misra and Ron Warmington over the course of those three days.
Horizon Scandal Fund is a registered charity!!
At blimmin' last! We launched the fund in November last year and started the process of become a registered charity some time before. I am delighted to tell you that, as of last weekend, the Horizon Scandal Fund has a charity number: 1199595.
This will allow us to register with HMRC to collect Gift Aid on our donations, and once we've done that we can set up a proper automated donation process on the Horizon Scandal Fund website.
At the moment, collecting gift aid on our donations is a manual and difficult process and if people just dump money in the fund's accounts without enquiry (which some people have been kind enough to do), it's sometimes hard to track them down and ask if they are able to give Gift Aid.
We are not going to formally announce the fund's new charitable status until we've got the HMRC thing sorted out and the website fully operational, but this is a big step forward.
My thanks to my fellow trustees, but above all to secret emailer and lawyer Ian Fagelson who has been sending polite and occasionally exasperated emails to the Charity Commission on the fund's behalf for the last few months, all pro bono.
Crime, punishment and Post Office walking tour!
As well as his legal talents, Mr Fagelson is an enthusiastic organiser of walking tours around London. To that end, I would like to draw your attention to a special tour Ian will be conducting in aid of the Horizon Scandal Fund at 5pm on 23 August, called "Postman's Park: The Crime & Punishment Tour".
We will start in the churchyard of St Paul's Cathedral, where Gunpowder plotters were hung (or hanged, as Ian says) drawn and quartered, then we'll head off towards the Old Bailey and on to a beautiful Tudor manor house where opening the mail uncovered dark deeds in the 16th Century.
When we get to Postman's Park, whilst Ian has a breather, I'll say a few words about the Post Office's Investigations Branch.
To find out more, click on this link. If you want to book a place, you'll be asked to nominate a donation amount – you can give as much or as little as you like (to a minimum of £1).
Both Ian and I will be delighted to see you at 5pm on 23 August if you can make it. If you can't make it, please share this link:
https://www.eventbrite.co.uk/e/postmans-park-the-crime-punishment-tour-tickets-379307578177
to your central London office-working friends (if there are any left) and suggest it might be a nice way to while away a couple of hours on a summer evening in August, whilst also doing a Good Deed.
Goodbye
Thanks very much for reading this far. I hope you listen to (and provide feedback on) the podcasts, come to the inquiry's second compensation hearing on Wednesday, book a few tickets to come and see the Inside the Post Office Scandal talk, either in Sale or in the autumn and sign up for the walking tour in August.
But I won't hold it against you if you don't!
Enjoy the heatwave.
Nick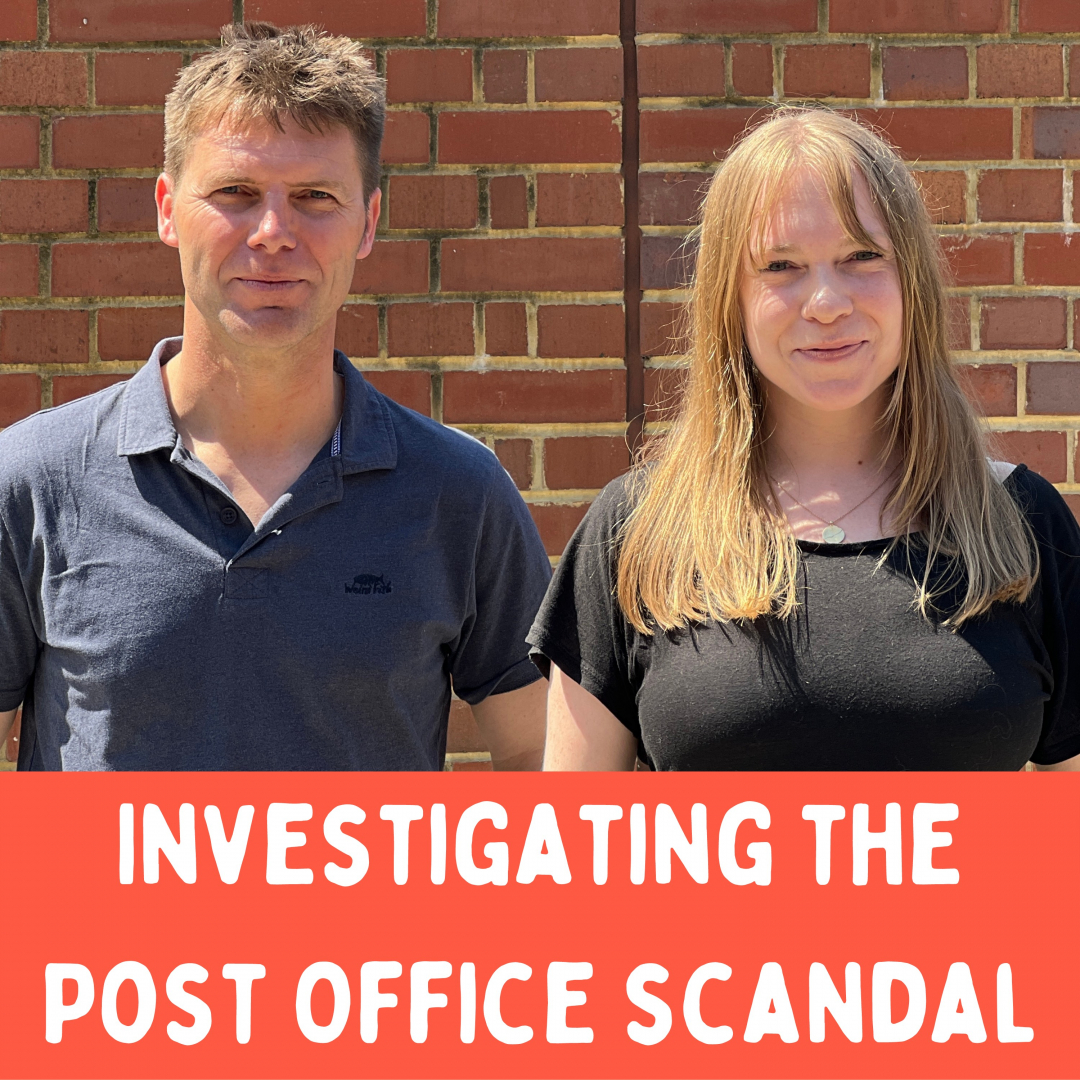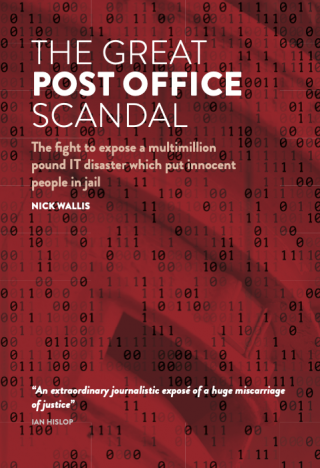 Please do forward this email to a friend. Everyone who buys a copy of the book through Bath Publishing will automatically be invited to join the "secret" email list.
The Post Office Horizon scandal is available for £25 as a hardback and audiobook and £8.99 for an ebook from Bath Publishing. Click here to buy it.