First anniversary of historic ruling
Hi there
Apologies for the recent radio silence. I have been out in the USA covering Johnny Depp's legal travails. Court days are around 16 to 17 hours long. Up at 4am, travel to court, queue up for a wristband, get into the court building at 7am, wait three hours for proceedings to begin, spend seven hours in and around the courtroom bashing out copy, live-tweeting and occasionally nipping out for a broadcast commitment, and then, when court has finished, putting together a youtube video, podcast and newsletter.
I may have bitten off more than I can chew, to be honest.
Go Nationals
I have a day off today and I'm going to watch a baseball match, but before I do I just wanted to mark the anniversary of an incredibly important day at the Court of Appeal in London last year.
It was when 39 Subpostmaster convictions were quashed with the presiding judges ruling that their prosecutions were an affront to the conscience of the court.
The ruling led to Paula Vennells' retirement from public life and prompted the conversion of the Post Office Horizon IT review into a full-blown statutory inquiry.
I am also almost certain the ruling (and the new level of public awareness it brought) will have had an effect on the government's decision to open up the settlement agreement between the group of 555 High Court litigants led by Alan Bates and the Post Office, and agree to pay full compensation to them.
What compensation?
Sadly, the issue of full compensation remains a thorny issue. No one who has had a quashed conviction, even those who cleared their names back in Dec 2020, has received full and final compensation for what they were put through. The scheme for the 555 has yet to even be set up.
The government in December set aside £685m in compensation payments for the hundreds of people who have had their convictions quashed, but it is not reaching them. That is a scandal in itself.
Many of those affected are in their fifties, sixties and seventies. You would have thought that after the ruling a year ago today compensation would be expedited. It's hard not to wonder if the delay isn't tactical.
Inquiry delays
Sir Wyn Williams has announced that he will not be able to launch the next phase of the Post Office Horizon IT inquiry until September. It was due to resume in June, but on 12 April he said:
"The Inquiry has received vast amounts of documentation which is relevant to Phases 2 and 3 [phase 1 being the human impact sessions]. This documentation is likely to be of considerable evidential significance and it is vitally important that it is assessed thoroughly before oral evidence is taken and tested."
In the meantime, more human impact hearings will be held in Glasgow and Belfast in May.
Panorama
Before I went to America I spent five months working as a consultant on a special Panorama about the Post Office scandal. This one is called The Post Office Scandal (good, eh?) and it goes out in England at 8pm on Monday night. It will be broadcast in the other nations at a slightly different time, or even possibly date.
This episode was put together by Matt Bardo and Tim Robinson who I worked with on the first two Panoramas. As well as being a consultant I am one of the on-screen contributors. Unlike the last two Panoramas on the subject, this one is an hour long, and doesn't have a presenter or even a narrator. I have not see the final cut yet but I am assured it is top-drawer viewing and hopefully will have an impact.
Theatre dates
I would be very grateful if you would consider buying tickets for the live theatre dates we are putting together at the end of June/early July bringing "Post Office Scandal: The Inside Story" to Shoreham, East Grinstead and Leatherhead.
I have written a blog post explaining how it all came about here.
The dates are as follows:
29 June – Ropetackle Theatre, Shoreham-by-Sea
30 June – Chequer Mead Theatre, East Grinstead
1 July – Leatherhead Theatre, Leatherhead
10% of all our proceeds will go to the Horizon Scandal Fund.
I am delighted to say that Sami Sabet, the former Shoreham Subpostmaster who spoke so movingly and fluently during the most recent oral evidence Inquiry session will be joining us at the Ropetackle.
I am thrilled that Ron Warmington from Second Sight, plus at least one other very special guest will be joining me on stage at Leatherhead Theatre.
The theatre in Leatherhead is a huge venue, but it is just a hop skip and a jump out of London, right on the M25, so if you are based in the South of England and fancy coming, and ideally bringing a coach party with you, we'd love to see you!
If tickets sales for these three nights go well, we'll add more dates in more locations around the country.
Horizon Scandal Fund
Speaking of the Fund, we are, I hope, close to getting our charity number, which will allow us to apply to HMRC to receive gift aid.
We don't want to make a massive song and dance about the Fund until we can accept donations directly through the HSF website, but, and this is the important thing – we have been and still are making grants.
If you or your family has been affected by this scandal the Fund can provide cash for therapy, counselling, one-off hardships (eg food, bills), legal advice, travel, IT support – pretty much anything so long as it is reasonable and connected to a deprivation suffered as a result of the Post Office's punitive actions.
Please do have a look at the Horizon Scandal Fund website and send an email – no matter how speculative. There is money there and it is there to be spent. We have already helped, or are in the process of helping half a dozen people or so. And we would like that number to grow. I would be most grateful if you could spread the word about this.
Audio book
If you would like to hear me read The Great Post Office Scandal directly into your ears, you can now buy it direct from the publishers, or get it on Audible (and many other platforms) as part of your subscription.
Bath Publishing and I invested quite a bit of time, energy and money in putting the audiobook together with the wonderful help of my neighbour Rupert Morgan who works at the RNIB studios in London. You can buy it direct from Bath here, or check it out on Audible here.
Updates
This was meant to be a short email! Sorry.
I'll try to keep you up to speed with everything whilst I am out in the US, but the trial over here is full-on Mon-Thu and I usually spend Fridays lying in a darkened room!
Enjoy what's left of the weekend and I'll write again when I can. And do please feel free to send any Post Office-related news to this email address. I do read and appreciate all your missives.
Yours
Nick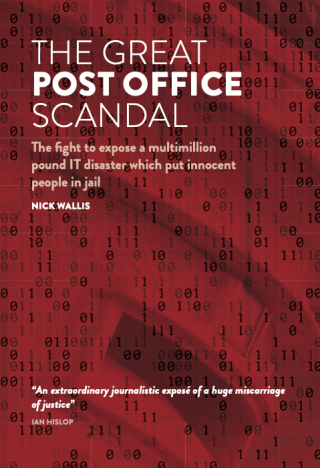 Please do forward this email to a friend. Everyone who buys a copy of the book through Bath Publishing (or donates via my tip jar) will automatically be invited to join the "secret" email list.
The Post Office Horizon scandal is available for £25 as a hardback and audiobook and £8.99 for an ebook from Bath Publishing. Click here to buy it.