Hi there
Another postmaster will likely become the 76th to have their conviction quashed today at 10am at Southwark Crown Court.
Nalini Joshi was convicted in 2001 of four counts of false accounting. Her case was assessed by the Criminal Cases Review Commission. The CCRC concluded that data from the Post Office's unreliable Horizon computer system was essential to the case against Ms Joshi and so referred her to Southwark Crown Court (Ms Joshi was convicted at Fenland Magistrates Court and so can only have her conviction quashed at a Crown Court).
Ms Joshi got in touch with the CCRC after seeing 39 Subpostmasters have their convictions quashed at The Court of Appeal in April last year. She has spent the last 21 years a convicted criminal. The Post Office is not opposing Ms Joshi's appeal.
Ms Joshi is represented by Hudgell Solicitors who have handled the vast bulk of appeals.
On Monday, five more Postmaster convictions are likely to be quashed at a hearing starting at 2pm at the Court of Appeal, bringing us to 81 convictions quashed out of 706 the Post Office believes may be unsafe.
If you'd like to look at a decent visual representation of the scale of this scandal, I recommend Peter Bell's clever interactive map.
Sale on Sale
If you live in the North West and fancy spending Sunday night in my company, then I will be speaking as part of the Refract Festival at the Waterside Arts Centre. I'm delighted that Kevin Brown will be joining me on stage to tell the audience his experiences of dealing with the Post Office's punitive methods. We might well be going for a drink afterwards – you would be welcome to join us.
I have four complimentary tickets available for Sunday evening if you would like to come along. Please hit reply to this email and claim one or more – they will be given away on a first-come, first-served basis. If you do take them, please consider making a small donation at some stage in the future to the Horizon Scandal Fund.
I mentioned in my last newsletter that the Fund is finally a registered charity. We are still waiting for HMRC to acknowledge our charitable status so we are able to collect gift aid on our donations.
As soon as that is set up we will start publicising our activities beyond this newsletter! I am delighted to say though, that we are already helping people – mainly by paying for counselling and psychiatric therapy, but also with hardship grants for those who need them. If you are in need now, get in touch now – don't worry that you might be getting compensation down the line or whatever, we know peoples' needs might be pressing and severe.
There are no huge forms to fill out or anything like that, just a bunch of trustees who know this story and want to help as soon as possible. Email info@horizonscandalfund.org. Every communication will be treated in the strictest confidence.
Podcast agogo
Rebecca and I are very touched by all the kind words about the podcast. Thank you. A new episode has gone up, featuring a lengthy interview with the Larkhill Subpostmaster, Mark Baker.
The "redoubtable" (a High Court judge's opinion of him – see Bates v Post Office No.3) Mr Baker is sadly stepping down from his role as a Postmaster and a CWU rep, and I felt it was important to get his thoughts on the current state of the network, his time at the NFSP and CWU, and his experience of being on the sharp end of dealing with the Horizon scandal. You can listen here or on Spotify or Apple Music.
Crime, punishment and Post Office walking tour
A reminder that secret emailer Ian Fagelson will be conducting a special walking tour in aid of the Horizon Scandal Fund at 5pm on 23 August. It is called "Postman's Park: The Crime & Punishment Tour".
We will start in the churchyard of St Paul's Cathedral, where Gunpowder plotters were hung (or hanged, as Ian says) drawn and quartered, then we'll head off towards the Old Bailey and on to a beautiful Tudor manor house where opening the mail uncovered dark deeds in the 16th Century.
When we get to Postman's Park, whilst Ian has a breather, I'll say a few words about the Post Office's Investigations Branch.
To find out more, click on this link. If you want to book a place, you'll be asked to nominate a donation amount to the Horizon Scandal Fund – you can give as much or as little as you like (to a minimum of £1).
Both Ian and I will be delighted to see you at 5pm on 23 August if you can make it. If you can't make it, please share this link:
to your London friends and suggest it might be a nice way to while away a couple of hours on a summer evening in August.
Have a great weekend.
Nick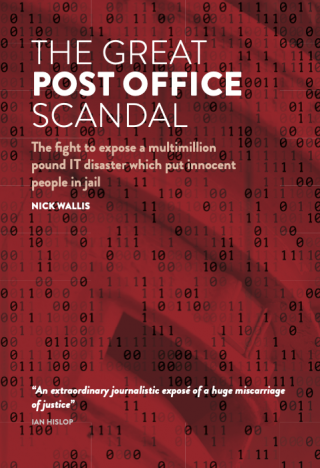 Please do forward this email to a friend. Everyone who buys a copy of the book through Bath Publishing will automatically be invited to join the "secret" email list.
The Post Office Horizon scandal is available as a hardback, ebook and audiobook. Click here to buy it. from Bath Publishing. Or here to find it on Amazon.